Hornets survive Central, open playoffs at home
EDITOR'S NOTE: Because the look back at each day in Bryant athletic history has been so favorably received during the time when there was no sports during the COVID-19 shutdown, BryantDaily.com will continueposting past stories of Bryant athletics either posted on BryantDaily.com (from 2009 to the present) or published in the Bryant Times (from 1998 to 2008).
By ROB PATRICK
BRYANT TIMES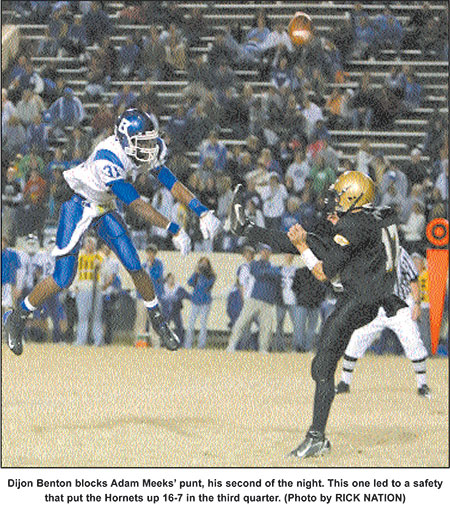 LITTLE ROCK — He is one hard-working Christian. And, along with his brethren on the offensive line, he's made believers of the teams on the Bryant Hornets' schedule in 2008, most recently, the Little Rock Central Tigers.
Christian Rycraw rushed for 192 yards on 29 carries including all nine plays in his team's clinching drive late in its 23-14 victory at Quigley Stadium on Thursday, Nov. 6, in the final regular-season game for both teams.
With the win, the Hornets, running a make-shift offense designed around Rycraw with up to nine linemen on some plays, captured the No. 4 seed in the Class 7A State playoffs and a first-round home game against the No. 5 seed from the 7A-West, Springdale. The Hornets will take a 7-3 record into the post-season. It's the eighth year in a row Bryant has reached the playoffs, the ninth time in the last 10 campaigns.
That's far from the years of frustration the program suffered through before 1999, their first winning season since 1985, just the second sincle 1972.
One thing, however, that has been somewhat reminiscint of the old days is Rycraw and the running game. The Bryant program was turned around via the passing game. But this season, seven different Hornets have thrown passes after their senior quarterback was lost for the season in the spring, their junior quarterback was sidelined with a foot injury early in the game during the eighth week of the season, and their third quarterback, a sophomore, was lost for the rest of the season with an injury during Week 9. The team's 152 pass attempts, including 11 by soph by sophomore Calem Milam as the starter against Central, this year is the fewest since 1997.
But Rycraw, with 222 carries through 10 games is second only to Greg Jumper's 239 in 1995 in school history. With his two touchdowns against Central, he's already set school standards in points in a season (102) and touchdowns, rushing and overall, (17). His 1,172 yards on the ground is third all-time in Bryant behind only Jumper in '95 (1,183), Jackie Brown in 1997 (1,203) and Matt White in 2001 (1,308).
"He'll do whatever we need him to do," stated Bryant head coach Paul Calley. "He'll block, he'll catch passes, he never complains. He's got great vision and his cutting ability — he can see a crease and he's in it and out of it before the defense can adapt. You're not going to arm-tackle him and he's going to get yards after contact. He's not going to the ground without a fight.
"We felt like he could do what he's doing," Calley added regarding the expectations for the junior running when the season started. "I can't say that I thought he'd be as good as he is but I knew that he had God-given ability."
Calley also knew he had some standouts on the offensive line. And they have not disappointed.
"And consider that every one of those guys has or has had an injury," he noted. "(Tackle) Jordan Jacobs, recovering from an ACL, plays in a brace. (Guard) Scott Pilcher had tendon surgery and he's got a sprained MCL. He plays in a brace. (Center) Drew King has a sprained ankle and a sprained knee all year and he's still playing in a brace. (Guard) Carter Norman has a sprained MCL. He's playing in a brace. And (tackle) Kaleb Burns has a broken hand. He's playing in a cast. (Senior guard) Sam Tucker tore his ACL and has tried to play. I just wish all those guys were healthy.
"We've gotten a lot of our tight ends too, a lot out of Temple (Holdcraft) and Josh Hampton, bringing him over from the defense, playing at tight end and (against Central), I used Ben Harris, who started at tackle last week, and I used (tackles) Eli Staton and Austin Johnson at tight end. Then I used Brett Clemons and Steven Lacamu as my power backs and my wing backs in my funky sets."
Those "funky" sets were actually called "the mule team" when that duo lined up flanking Rycraw or senior running back Aspen Trevino in the shotgun, or "bash" when they both lined up on a wing behind the guard and tackle on one side or the other with Rycraw as the shotgun quarterback or at tailback behind Milam.
Bash was the play that scored the Hornets' touchdown in overtime in the 14-13 win over North Little Rock the previous week. It was the primary formation they used in the finishing TD drive at Central. Against North Little Rock, the two wing blockers were linebackers Dylan Chism and Austin Humbard. Calley went to Clemons and Lacamu during the week leading up to the Central game.
"Because we don't have Humbard and Chism to practice all week (on offense), I took two of the most explosive guys I have," noted the coach. "They're not very big but they don't mind hitting. To have never done it, they did an excellent job of picking up linebackers and people coming through — people that you wouldn't think they'd be able to pick up or even see. I was very pleased."
The game was closer than it might have been. The Hornets took a 7-0 lead midway through the first quarter. An exchange of punts had given them good field position 47 yards away from paydirt. Rycraw got things off to a good start with a 27-yard dash. He carried three more times to get it to the 9 and, from there, senior Aspen Trevino came on to give him a rest and blew through a hole on the left side for a touchdown. Austin Bradley added the extra point.
Central answered with a 65-yard drive in five plays, capped by a 41-yard run by Cherard Grant on a third-down play.
Grant would wind up rushing for 106 yards on 11 carries to go with Mayborn Peters' 122 yards on 27 tries. The Tigers only passed once before the final two minutes of the game.
With the game tied, the Hornets marched from their own 19 to a second touchdown. Milam completed a pair of passes, a 12-yarder to Chris Arnold and another for 12 yards to Brandon Parish who grabbed the throw despite defensive interference. Because the penalty was good for 15 yards (the actual mark-off was 18 somehow), they took the penalty and, two plays later, Rycraw streaked 38 yards for the TD.
The Bryant defense forced a three-and-out and the Hornets got great field position when the punt of Central's Adam Meeks was partially blocked by Benton, picked out of the air by Holdcraft and returned to the Tigers' 21.
Despite a holding penalty, the Hornets drove to the 6. A nice pass from Milam to Arnold set up a third-and-5 there and, on the next play, Rycraw got close to a first down only to be stopped. A fourth-down try came up short too (though the officials refused to measure after either play).
Central, in turn, got it out to the 23 before punting. Bryant's offense got rolling again from the Tigers' 29 and reached the 5 before taking a timeout with :02 left in the half. Bradley came on to try a field goal but missed left and it remained 14-7 at the break.
"We were going to keep doing what we'd been doing in the first half, keep running it right at them, sprinkle in some spread stuff and throw the ball and to run it, high percentage plays that we felt would work," Calley said of the halftime work. "We made a couple of adjustments in the way that we were blocking. When Central finally adjusted defensively, we were having trouble picking up the weakside linebacker, like on the goal line. And when we got in an unbalanced set, they were overloading and we talked about running back to the weakside away from the overload. We did that particularly well on our last drive."
The only score of the third quarter was a crucial one at the time. The Hornets forced a Central punt from the Tigers' 28 and again Benton got through for the block, this time a solid one. The ball ricocheted toward the goal line and, though a couple of Hornets got their hands on it, it was eventually covered in the end zone by the Tigers' Jahon Zahtaban for a safety, giving Bryant a 16-7 lead.
After a free kick, the Hornets' chance to break the game open was undermined by a holding penalty. Humbard came on to punt and his kick was downed at the Central 3.
But the Tigers, in 17 running plays, drove the length of the field for a score. Grant got in from the 1 with 7:03 left in the game to make it 16-14.
"Central's offensive line is probably the best, other than Cabot, we've seen all year, as far as coming off the ball and being physical, staying with their blocks," Calley related. "When I saw them against Catholic, I couldn't believe they hadn't won a game. Against Cabot, our philosophy was we were not going to let them get off the line of scrimmage, try to make a pile. We had the same defensive front against Central but you can't do that because the running backs they have are shifty. You had to have more than two or three people that could get in on the tackle. So, our defensive linemen were trying to stand up and they were driving us off the ball at times. And they were getting to our linebackers."
Indeed, safeties Dijon Benton and Chris Brooks were in on a load of tackles. Benton had a hand in on nine, Brooks 13.
On the ensuing kickoff, Logan Garland made a splendid return all the way to the Central 26 only to have a holding penalty negate a chunk of it. Still, the Hornets took over from their own 47 and, in nine carries by Rycraw using "mule team" and "bash", put the finishing touches on the win. He scored from the 5 with 1:32 left.
Central's last-ditch effort to close the gap ended on an interception by Garland with 0:31 left.
"We've been through everything you could imagine," Calley stated as he looked back at the regular season. "We lose our starting quarterback, we lose close games, we get other people injured. But we haven't quit, never made excuses, we just kept working. That's the way it's been with all our teams. You know once the tradition was established, these guys thing they're supposed to win and you can't make them believe any different."