Hornets unleash Holdcraft, defense to blast Conway
EDITOR'S NOTE: Because the look back at each day in Bryant athletic history has been so favorably received during the time when there was no sports during the COVID-19 shutdown, BryantDaily.com will continueposting past stories of Bryant athletics either posted on BryantDaily.com (from 2009 to the present) or published in the Bryant Times (from 1998 to 2008).
By ROB PATRICK
BRYANT TIMES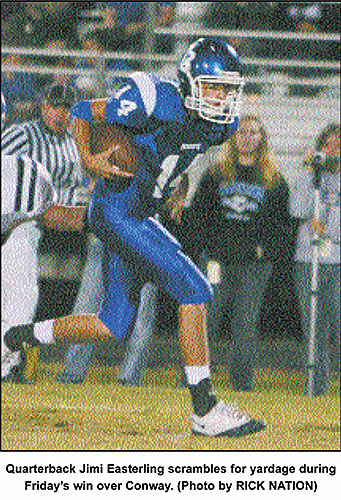 Going into their 7A-Central Conference game against the Conway Wampus Cats on Friday, Oct. 17, the Bryant Hornets junior running back Chris Rycraw had already — through six games — amassed just short of 700 yards rushing this season. That's the most for an entire season by a Hornets back since 2001 when Matt White set the school record with over 1,200 yards rushing.
Rycraw has been a revelation. A slasher with the speed to get to the corner, the quickness to lace his way through the broken field and the determination to finish off his runs by delivering (rather than accepting) contact.
It hasn't hurt either that the Hornets have an exceptional offensive line anchored by returning starters Jordan Jacobs and Scott Pilcher.
And that o-line has been augmented by a solid senior tight end, Temple Holdcraft, who not only run blocks but has proven valuable in protecting junior quarterback Jimi Easterling.
But, against Conway, the Hornets came up against a team determined to slow down Rycraw and the ground game, a tactic that figured to be particularly shrewd considering top receiver Tim Floyd was out with a shoulder injury.
But much to the Wampus Cats' surprise, the Bryant coaches, during the week of preparation, found a new target for Easterling and he proved vital to breaking Conway's concentration on the ground game, playing a key role — along with an exceptional defensive effort by the Hornets — in their 34-7 victory.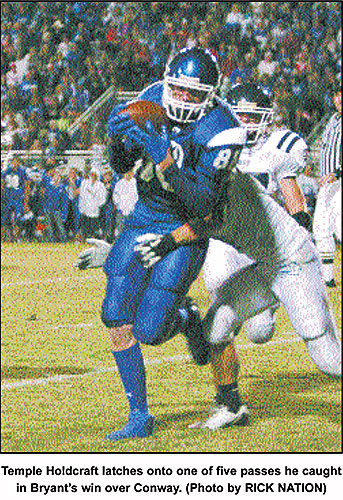 It was Temple Holdcraft.
Coming into the game, Holdcraft (6-3, 220) had not even been thrown a pass, let alone caught one all season. But, against Conway, he grabbed five of Easterling's throws for 61 yards, doing his part to help Easterling put together one of his best nights as he completed 12 of 15 passes for 191 yards.
The two connected on the very first play of the game for 20 yards.
And Rycraw? Though he was held to 54 yards on 21 carries, he scored four times in the first half and combined with Aspen Trevino, Easterling, Chris Arnold and Cody Wallace to pile up 138 yards rushing before it was over.
Asked if using the tight end was something he, offensive coordinator Brooks Coatney and receivers coach Jason Hay saw in Conway's defense or in their tight end, head coach Paul Calley answered, "A little bit of both.
"Coach Coatney and Coach Hay felt like there were instances where we could get the ball to the tight end and we felt like we'd under-utilized him throughout the year," Calley allowed. "And he felt like it would be a safe pass. And Temple played very well. I'm very proud of him. He's a good blocker and we knew he had great hands. But we've never really been a tight-end oriented offense so it just took us awhile to integrate the tight end into it.
"What we usually use the tight end for is to make people line up like we want them to so we could run it and for pass protection," explained the coach. "But now that he's a weapon, people are going to have to prepare for him which is even better for us."
All five of Holdcraft's receptions came in the flat, 10 yards or so downfield, in an area cleared out by a wide receiver or two. Easterling, using a play-action fake to Rycraw or Trevino, rolled out that way and found him with passes that were on target. And there were a couple of times that Holdcraft had to make a catch in traffic. He took the hit and held on.
"Jimi's not real tall and Temple is," Calley noted. "He's easy to see. We tried to force a couple of them in there that Temple went and got. He's been wanting the ball and I'd say he's earned a few more passes his way."
Conway, on the other hand, didn't complete a single pass. (Quarterback Chase Calcagni was credited by some with one completion but it was a lateral to running back Desmond Cox.) So dominant was Bryant's defense that the Cats picked up a first down on their initial possession then picked up just one more (by penalty) before their last possession against Bryant reserves.
After managing just 35 yards of total offense in the first half, Conway finished with 86, exactly half of which came during that last possession when the Cats drove to the Bryant 4 against the reserves.
Feeling his defense deserved the shutout, Calley returned his starters to the field at that point only to have a fourth-down run from the 4 break the goose egg anyway.
"We've got players that are getting better," the coach said of his defense. "They're working better as a unit. They're more confident in each other and we've got good coaches that get them prepared for everything they see. And they're very rarely out of position. We play fundamental, assignment defense and it's been paying dividends for us for years. That's what we have to rely on because we're usually 'out-athleted'. We depend on execution and heart and we've got it. This team is scrappy."
It's worth noting that the Hornets had the second-ranked Russellville Cyclones shut out for 46 of the 48 minutes the week before only to have disaster strike late resulting in a 14-13 loss.
"Last week, we didn't execute at the end and we couldn't put it away," he acknowledged. "We talked about finishing tonight."
The result was a performance displaying the kind of resilience that has marked the program since its change of fortunes a decade ago.
Similar to Russellville and their only other loss of the season at Little Rock Catholic, the Hornets led by two scores early. But this time, they added on. Their first possession, despite the completion to Holdcraft and a 37-yard connection from Easterling to his buddy Brandon Parish, stalled at the 22 and Austin Bradley's 40-yard field goal attempt was partially blocked.
Conway picked up that one first down but two plays later with Shawn Burchfield breathing down his neck, Calcagni loosed a pass that linebacker Dylan Chism intercepted just 37 yards away from paydirt.
That was the first of seven consecutive possessions by the Hornets that started in Conway territory six times and at the Bryant 49 the other.
Pulling their "Houston" alignment (the BHS version of the Wildcat) out of storage, the coaches lined up Rycraw in the shotgun at quarterback, flanked by Trevino and Arnold. A quick handoff to Arnold broke big for 31 yards to the 6. A play later, Rycraw scored his first TD from the 3.
After the first of Conway's six punts, Bryant drove 44 yards to another score. Rycraw converted a fourth-and-1 early in the march and later zipped 11 yards to convert a third-and-4. Moments later, the Hornets faced a third-and-7 at the 11. Easterling rolled out and fired to Holdcraft for a first-and-goal at the 3. Rycraw scored from there to make it 14-0 with Bradley's second extra point.
Conway managed just 5 yards on its next possession and punted the Hornets back to the Cats' 40. Easterling hit Holdcraft for 11 to begin another scoring drive. A play later, the quarterback kept for 13 yards to the 11 and, eventually, Rycraw, following defensive tackle-turned-fullback Josh Hampton, scored from the 4. Bradley made it 21-0 with 4:12 left in the first half.
And before long the Hornets had it back at their own 49 with 2:44 left. Easterling threw to wideout Garrett Bock who turned a 15-yard gain into a 36-yard pickup with a nice run to the 15. A holding penalty pushed the Hornets back and, a play later, Conway's Will Schichtl intercepted an Easterling pass at the 11.
On Conway's subsequent first-down play, however, Calcagni, on a semi-roll, looked to pass. His rushed throw fell incomplete as Austin Humbard, blitzing from his middle linebacker spot, drilled him.
The junior quarterback was shaken up on the play and had to come out. His replacement, Grant Bloggett then fumbled the snap on the next play and Brandon Peach recovered for the Hornets with 1:16 left in the half.
From the 27, Rycraw dashed for 8 yards. The Hornets followed up with some trickery. Rycraw took a pitch around left end from Easterling. In turn, Rycraw handed to Dijon Benton, the Hornets' all-state safety who had lined up at wide receiver, reversing it back the other way. Easterling, meanwhile, had made his way downfield. Benton put up a pass and Easterling made a leaping, juggling catch in front of Blodgett, the Conway safety, at the 4.
Rycraw scored on the next play and Bradley booted it to 28-0 with 51 ticks left on the clock.
Conway got the ball to start the second half and picked up a first down, courtesy of a fourth-down penalty on the Hornets. But, on the next play, cornerback Logan Garland intercepted a long Calcagni pass at the Bryant 25.
Though Easterling completed a 15-yard pass to Holdcraft then a 17-yarder to Brady Butler, the drive stalled at the Conway 45. Humbard came on and punted the Cats back to their own 4 where Benton and Chris Brooks were waiting to down it.
Still, the two teams proceeded to trade punts through the third quarter. With :48.9 left in the period, the Hornets got the ball after a short punt at the Conway 39 and, with Trevino carrying on seven of the eight plays, they drove for a final score. Trevino got the points from the 1 with 9:39 left to play.
Bradley missed the extra point, however, which prevented the "sportsmanship" rule from being invoked in which the clock runs continuously after a team builds a 35-point lead in the fourth quarter.
Conway, however, lost yardage on the subsequent possession and the Hornets' reserves took over. Bryant eventually had to punt but a bad snap resulted in the Wampus Cats gaining possession at the Bryant 36 — their best field position of the night — and it led to their lone score in the final minute.