BJHS notches second straight win over rivals
EDITOR'S NOTE: Because the look back at each day in Bryant athletic history has been so favorably received during the time when there was no sports during the COVID-19 shutdown, BryantDaily.com will continueposting past stories of Bryant athletics either posted on BryantDaily.com (from 2009 to the present) or published in the Bryant Times (from 1998 to 2008).
By ROB PATRICK
BRYANT TIMES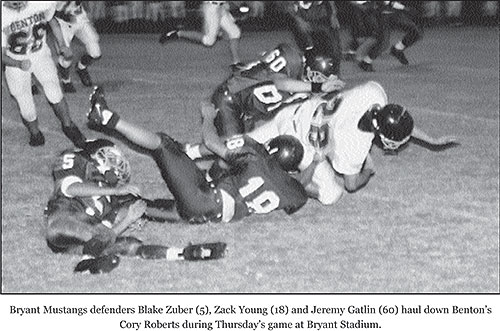 For the first time since the two schools have been competing in football, the Bryant Junior High Mustangs beat the Benton Junior High Warriors for the second year in a row.
Todd Bryan scored 27 points with three touchdowns — two on offense and one on defense — a field goal and seven extra points as the Mustangs rolled to a 45-14 victory over their arch-rivals at Bryant Stadium.
With the win, the Mustangs improved to 7-2 on the season with a re-match with Searcy to play on Tuesday (see related story) in the Central Arkansas Junior High Conference's postseason date. The Mustangs, at 3-2 in the South Division of the CAJHC, finished third by virtue of the win over Benton which fell to 5-4, 2-3. Benton was set to visit Morrilton on Tuesday.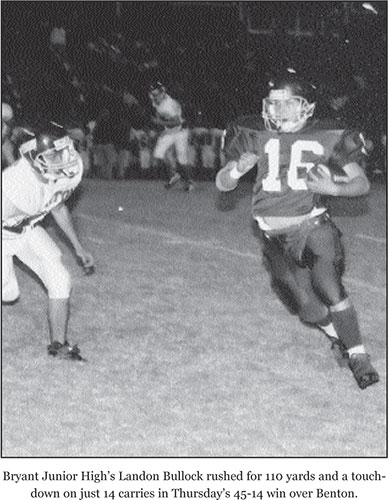 Conway White, a team that defeated Bryant 21-20 in overtime, was to represent the South Division in the league's championship game on Tuesday, against North Division champion Russellville West.
Last season, the Mustangs hosted Searcy in the postseason game and the Lion Cubs eked out a 28-27 win.
The Mustangs will have to go some to improve on Thursday's performance against the Warriors. They rolled up 412 yards of offense despite shutting things down late in the game. The Bryant defense allowed 230 yards rushing and 77 yards passing but 252 of at 307 came on four plays. Benton tailback Josh Morgan had touchdown runs of 80 and 73 yards on the way to 231 yards in 17 carries. He also had a 49-yard run. And quarterback Josh Brown's four completions in eight attempts included a 50-yard connection with Chris Schwen. Morgan's second TD run and the pass play accounted for Benton's only two first downs of the second half.
It was a resilient effort by the Bryant team which was coming off its worst performance of the season, a 26-3 loss at Sheridan.
"That's another example of how these kids bounce back, how they fight back from adversity," noted Bryant head coach Scott Neathery. ""I thought the intensity was there. We showed a lot of heart and determination. Whenever something went wrong for us, it seemed like we turned it up a notch and we made a play.
"There were a couple of times (on offense) when we had third-and-forever and made the big pass and made the big catch and got the first down," Neathery mentioned. "That's one thing I've been talking about this team all year, especially early in the season, how they never gave up. There were a couple of times where we could've given up because momentum swung (Benton's) way, but we just kept plugging, kept plugging and the execution was pretty good offensively. Defensively, we did a great job too except for a couple of long runs."
For awhile, it looked as though it would be a tennis match of a ballgame as the teams traded scores. Bryant opened with a 67 yard march in seven plays that featured a 33-yard pass from Bryan Griffith (12 for 18 for 204 yards) to Travis Wood and a bruising 17-yard run by Landon Bullock. Bryan scored the TD by taking an option pitch from Griffith and out-sprinting the Benton defense to the corner from 15 yards out.
Bullock rushed for a season-high 110 yards on 14 carries. Bryan rushed twice for 21 yards and caught five passes for 64 more.
On Benton's first play on offense, however, Morgan broke off tackle and raced for his first touchdown. John Hill's extra point tied it at 7.
Back came the Mustangs. On the ensuing kickoff, Bryant ran a reverse play with Bryan winding up with the ball. He returned to the Benton 28 with Morgan making a touchdown-saving tackle.
A 12-yard burst by Bullock on a fourth-down play at the 12 got the Mustangs into scoring position, but Griffith was flagged for intentional grounding as he tried to avoid a sack and, on the next play, a fumbled pitch pushed them back to the 26.
A play later, Bryan came on and boomed a 43-yard field goal with room to spare to make it 10-7.
Back came Benton with a drive to the Bryant 17 where, on a fourth-and-4, the Mustangs' defense made the first of two big stands that turned the game. Morgan took a handoff and was stopped a yard short of the marker. The Mustangs declined a holding penalty against Benton and took over at the 14 on downs.
A holding penalty on Bryant negated 15 yards of a 22-yard burst by Bullock, but Griffith and Wood connected for 15 yards to convert a third-and-9 from the 15. A play later, however, Benton's Bryson West wrestled an interception away from a Bryant receiver at the Mustangs' 41.
Though the Mustangs shut down Morgan on the subsequent drive, Brown hit pass of 16 and 9 yards to Jordan Rogers to reach the 16. But, on a fourth-and-1 there, Brown was stopped cold on a quarterback sneak and, again, the Mustangs took over on downs with 3:29 left in the half.
That proved to be enough time for the Mustangs to score twice.
Immediately, they put together an 84 yard drive in nine plays despite a holding penalty that negated a 17-yard pass completion. Griffith was 4-of-5 on the drive without that one including a clutch 10-yard completion to Bryan to convert a third down. The duo then teamed up on a 38-yard play to the Benton 13. Two runs by Bullock found paydirt with :48 left in the half.
Benton, down 17-7 all of a sudden, tried to mound a last-minute drive and reached its 34. On a third-and-2, Brown, under pressure from Bryant's Kevin Carr, lofted a pass down the middle that Bryan picked off and returned 51 yards for a touchdown as time ran out in the half.
The Mustangs had a two-point conversion set up off a fake kick but a procedure penalty washed out the play before it got started and Bryan wound up kicking the PAT to make it 24-7 at the half.
Benton showed its own resilience at the start of the third period. On the second play of its possession, Morgan again got loose and dashed 73 yards for a score. Hill made it 24-14.
But any momentum that gained for the Warriors was lost in short order. A 25-yard pass from Griffith to Josh Rice and gallops of 27 and 14 by Bullock set up a 7-yard touchdown run by Bullock in less than a minute off the game clock.
After Benton was forced into the only punt of the game after three plays, the Mustangs rolled 68 yards in six plays for another score. This time, Griffith, who rushed for 65 yards in five tries, was the featured runner with jaunts of 24, 4 and 30 yards. He then connected with Bryan on an 8 yard pass to set up a 6-yard run by Bryan for the touchdown. With 1:19 left in the third quarter, Bryan kicked the Mustangs ahead 38-14.
That's when Brown and Schwen hooked up on their 50 yard pass to the Bryant 30. But Morgan was stopped for no gain, Brown was sacked by David Hollis and Kyle Sterling and a screen pass from Brown to Morgan was sniffed out by Zach Hannahs and held to 2 yards.
Brown's fourth-down pass was incomplete and many of the Mustangs' second teamers took over at the Benton 35.
After two plays, the Mustangs faced a third-and-16 at the 29 as quarterback Rett Hatcher, playing despite missing time during the week because of the flu, came in. Hatcher needed a breather on third down and Griffith returned to complete a 53-yard pass to Blake Zuber. Hatcher returned and handed to Chris Drye on an 8-yard touchdown run to cap the scoring with 6:14 left to play.
Everybody played after that.