Gage Stark had three hits and drove in four runs as the Bryant Black Sox Junior American Legion team took advantage of Christmas in July as the Vilonia Eagles issued 11 walks and committed nine errors. The Sox whipped the Vilonia Eagles, 13-4, in the opening round of the Area 3 Junior District Tournament at Bryant High School Field on Saturday.
It was the fourth lopsided win of the day. Prior to the Bryant-Vilonia nightcap, Sheridan Peoples Bank downed Hot Springs Village Graves Sports, 10-3. Benton Sports Shop run-rule Benton Gingles, 12-2, then the Little Rock Cobras outlasted Benton Williams Tire, 18-9.
Bryant will take on Little Rock as one of four more games in the tournament. It'll be a 3 p.m. contest.
The Sox scored in six of the seven innings. Lefty Tyler Bates struggled with his control over the first two frames but did not allow a hit. Christian Motes came in with one on in the third to get out of a jam and worked through the fifth, allowing three runs on three hits. Slade Renfrow pitched the sixth, allowing a run on one hit then Josh Turner pitched a 1-2-3 seventh, the only one of those in the game.
"The pitching went well," said Sox manager Tyler Brown. "With that pitch count, man, it's really tough. If a guy's in a rhythm, you probably want to let them go but Bates did a good job. I felt like he didn't necessarily get into a rhythm throughout the night. So, we got him out of there about 40 pitches in. Motes came in and did a good job, threw strikes. Slade and Turner did their jobs too."
The pitch limit in American Legion is similar to that in high school. A certain level of pitches thrown affects how long you have to rest before you can pitch again. In a tournament format where the teams are playing daily, it can become a juggling act.
Bryant, playing as the visiting team, broke out on top in the first when Noah Davis led off with a lined single to left. Brayden Lester got a sacrifice bunt down that Vilonia pitcher Turner Holland fielded. But his throw evaded the first baseman and runners wound up at second and third.
Davis scored on Peyton Dillon's grounder to short and, after Ryan Riggs walked, Lester came home on Stark's groundout to second.
In the second, Lawson Speer managed an infield hit, took second on a pitch in the dirt and third when the catcher's late throw to second got away. Davis walked but both were stranded.
"We really struggled early on, just hitting routine flyballs, not necessarily hard groundballs, making the fielder catch it and throw it," Brown noted. "That's something we've talked about over the last week and a half.
"We didn't necessarily get a lot of hits, but we hit a lot of hard groundballs and make them field it and throw it," he explained. "The results were good for us. We got guys on. If you hit the ball hard and make a fielder have to field it and throw it, good things can happen for you.
"Of course, if they don't, they don't. But, hitting hard groundballs, you have a better chance than somebody just catching a flyball. We did a good job with that tonight."
Bates had pitched around a two-out walk in the bottom of the first, but he walked another and hit one in the second. The lead runner Cade McWilliams tried to take third on a ball in the dirt but Riggs, the Bryant catcher, pounced on the ball and threw him out for the second out of the inning.
A walk to Drake Shaw put runners at first and second but Bates got Zane Gunter to bounce out to Zion Collins at second to keep it 2-0.
In Bryant's third, Riggs walked with one away and courtesy runner Slade Renfrow stole second. Stark picked up his second RBI with a sharp single to left.
Collins walked but Vilonia turned a doubleplay to keep it 3-0.
Bates walked Robby Blowers to start the third then gave way to Motes, who got Jake Goff to groundout as Blowers took second. Drew Killough beat out an infield hit then stole second. Motes got Jayden Liscewski to hit one back to the box. He threw home and they got Bowers in a hotbox before Riggs tagged him out.
But Bowers stayed in the rundown long enough for Killough to reach third and Liszewski to take second. On the very next pitch, Holland lashed a single to right to make it 3-2.
Motes got McWilliams to fly to center to end the inning.
A one-out walk to Speer gave Bryant a chance to add to the narrow margin. Davis hit a grounder to third but Goff's throw to second in hopes of a force was mishandled and runners wound up at second and third.
Speer raced home on a wild pitch. Lester drew a walk to put runners at first and third. When he took off to steal second. Liszewski fired to second but the throw was cut off by the shortstop Bowers who noticed Davis heading home. His return throw to the plate, however, got past the catcher and Davis scored to make it 5-2.
Dillon walked and stole second against Killough, the next Vilonia pitcher, but the next two batters struck out to end the threat.
Motes just needed nine pitches to get through the bottom of the fourth. Dillon made a nice over-the-shoulder running catch on a foul pop down the right-field line. But Shaw reached on an error. Gunter followed with a grounder to Collins, who stepped on the bag for the force and fired to first where Dillon made a sweet scoop to complete the doubleplay.
Killough gave way to McWilliams in the top of the fifth. He hit Collins then Aaron Morgon sacrificed him to second. Suddenly, after four pitches, McWilliams was pulled and Shaw relieved.
A wild pitch allowed Collins to take third and he scored on Motes' grounder to short to make it 6-2.
Bowers walked to start the home sixth. With one out, Killough drew a free pass. Stark cruised in to haul down a liner to left by Liszewski but, on the next delivery, Holland singled to right to chase in Bowers.
Motes kept it to one run when he got McWilliams to fly out to Stark.
In the top of the sixth, a one-out walk to Lester started an uprising that included four Vilonia errors. Dillon reached on one and when the throw came back to the pitcher, it got away and runners wound up at second and third. Riggs hit a grounder to first where Gram Middlton got the out then, noticing Lester was trying to score, threw to the plate over the head of Liszewski.
And when the catcher headed after the ball, Dillon, noticing the plate was left open, headed home. Liszewski's throw back to Shaw, who got there in time to make the tag, got away from Shaw and Dillon was in, making it 8-3.
Stark singled to right and, with a 2-0 count on Collins, Shaw was pulled in favor of Goff. He completed the walk to Collins but got the final out when Morgan's shot to right was flagged down by McWilliams.
With Renfrow in the game, Shaw drew a one-out walk in the bottom of the sixth. He took second on a wild pitch and scored when Gunter singled. Faced with the top of the line-up, Renfrow fanned Bowers and got Goff on a grounder to Davis at short to keep it 8-4.
Bryant took any mystery about the outcome to bed in the top of the seventh, scoring five times on two hits and three more Vilonia errors. A one-out walk to Speer set things in motion. On a ball in the dirt, Speer took off for second and drew a bad throw. So, he headed to third. Holland retrieved the ball and fired wildly to third allowing Speer to sprint on home to make it 9-4.
With two out, Lester drew a walk and stole second. Dillon singled to drive him home. Riggs' base hit sent Dillon to third and, on the throw there, he stepped to second.
That set the stage for Stark's two-run single to make it 12-4.
Walks to Collins and Morgan loaded the bases and Bowers came on as Vilonia's sixth pitcher. He unleashed a wild pitch and Stark scored before Renfrow grounded out to third to end the inning.
Speer made a charging, sprawling catch of Killough's pop in shallow center to open the bottom of the seventh behind Turner, who then struck out Liszewski. Holland lined out to Morgan in right to close it out.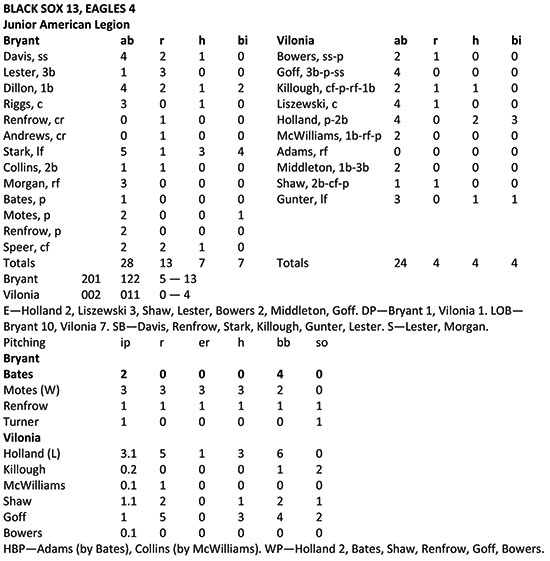 2018 ARKANSAS AMERICAN LEGION JUNIOR DISTRICT TOURNAMENT
At Bryant High School Field
Saturday, July 7
Game 1 — Sheridan Peoples Bank 10, Hot Springs Village Graves Sports 3
Game 2 — Benton Sports Shop 12, Benton Gingles 2
Game 3 — Little Rock Cobras 18, Benton Williams Tire 9
Game 4 — Bryant 13, Vilonia 4
Sunday, July 8
Game 5 — Sheridan Peoples Bank vs. Benton Sports Shop, 12:30 pm.
Game 6 — Little Rock Cobras vs. Bryant, 3 p.m.
Game 7 — Hot Springs Village Graves Sports vs. Benton Gingles, 5:30 p.m.
Game 8 — Benton Williams Tire vs. Vilonia, 8 p.m.
Monday, July 9
Game 9 — Game 7 winner vs. game 6 loser, 12:30 p.m.
Game 10 — Game 8 winner vs. game 5 loser, 3 p.m.
Game 11 — Game 5 winner vs. game 6 winner, 5:30 p.m. (winners bracket final)
Game 12 — Game 9 winner vs. game 10 winner, 8 p.m.
Tuesday, July 10
Game 13 — Game 11 loser vs. game 12 winner, 5 p.m.
Game 14 — Game 11 winner vs. game 13 winner, 7:30 p.m.
Wednesday, July 11
Game 15 — If game, 6 p.m.