Opportunistic Senior Sox rally past Vipers
EDITOR'S NOTE: Because the look back at each day in Bryant athletic history has been so favorably received during the time when there was no sports during the COVID-19 shutdown, BryantDaily.com will continueposting past stories of Bryant athletics either posted on BryantDaily.com (from 2009 to the present) or published in the Bryant Times (from 1998 to 2008).
Photos courtesy of Paul Dotson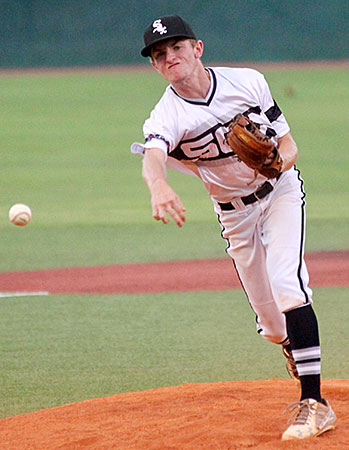 LITTLE ROCK — Over the first five innings of their game against Zone rival Little Rock Vipers, it looked like there was no way the Bryant Black Sox Senior American Legion team was going to win. But over the last two frames, it looked like there was no way the Sox were going to lose.
Behind a bulldog performance on the mound from right-hander Seth Tucker, the opportunistic Sox erased a 6-2 lead with four runs in the sixth and two more in the top of the seventh to forge an 8-6 victory over the Vipers at UALR's Gary Hogan Field.
Somehow, the Sox, with just 10 players available, found a way for their 11th victory in a row and sixth in as many games in Zone play. They improved to 14-3 going into a trip to Sheridan tonight.
From the outset, it looked like the best Little Rock team in years behind right-hander Shelby Quiggins of Maumelle, who has signed to play collegiately at Three Rivers Community College. He allowed just three hits over the first five frames even though the Sox were able to scratch out two runs. And the Vipers hit the ball up and down the lineup.
"They've got a good ballclub," acknowledged Bryant manager Darren Hurt. "They've got a lot of good players and threw a really good arm against us. So, it was a good win.
"We got behind and a lot of it had to do with them, more so than us," he continued. "Now we were kind of sleep-walking. The week off kind of showed up a little bit. Regardless, they're a good ballclub."
Tucker, who went the distance on the mound gave up all six runs on eight hits through five but he kept getting out of jams and limiting damage. In fact, twice Hurt was prepared to bring in a reliever.
But once Tucker and the Sox offense rallied to tie the game, however, he bore down and blanked the Vipers without a hit over the last two frames, facing the minimum.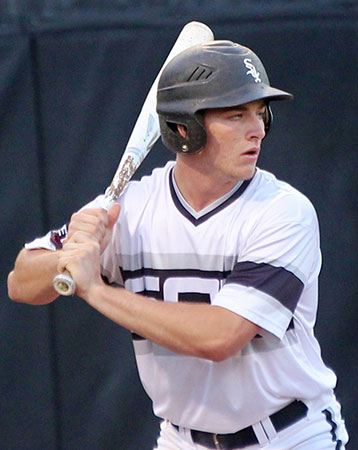 "He kept battling," Hurt said. "It's not like they were stringing it together on him. He was able to get big outs along the way with people on base and get a doubleplay ball (in the sixth). I thought he threw really well."
In the end, the Sox just refused to give in.
"One thing we just talked about with them (after the game) — and one thing we're trying to get into the Junior guys right now — they hate to lose," Hurt noted. "They literally can't stand it. And I think that's part of it. They're looking for any crack that they can take advantage of and, when the moment's right, they just come through. And they've been doing it all summer. If you give us a little bit, you better hold on because they're going to take advantage."
Though few, if any, of the current players have been involved since the teams didn't play each other in 2016, it was incredibly the 26th time in the last 27 meetings between Bryant and a Little Rock team (there used to be two) that Bryant has won dating back to 2008. The only win in that stretch for a Little Rock team was a 3-2 decision in 2013.
The big inning was the top of the sixth. Quiggins had given way to reliever Gavin Johnson, another hard thrower, but Johnson committed the cardinal sin of a reliever with a lead. He walked the first batter he faced, Tucker. Jake East followed with a single.
Johnson then got some help from his defense when Bryant's Logan Allen drove one to the gap in right-center that right-fielder Anders Nowell ran down. Tucker tagged and went to third.
As it turned out, that was about the last of the help Johnson got from his defense, which had played errorless ball through the first five.
East stole second and Dylan Hurt rapped a bouncer towards third. Quiggins, perhaps taking a peak to see where East was, booted the ball. Tucker scored and East got to third anyway as Hurt reached first.
Johnson and Bryant's Aaron Orender battled to a 3-2 count before Orender drilled a single to left. East scored and Hurt hustled to third on a late throw to the plate that missed the cutoff. Orender hustled into second as the Sox continued to apply pressure on the Vipers with the lead down to 6-4.
That brought up Alex Shurtleff who lasted a hot shot to the right of Vipers' first baseman E.J. Scott who got a glove on it but couldn't haul it in. As the ball rolled into short right field, both Hurt and Orender crossed the plate to tie the game.
Scott Schmidt added a single, bringing up Brandon Hoover. With the runners on the move, Hoover drilled a liner that seemed destined to get up the middle for another hit (and another run) but Johnson helped himself out by somehow spearing the liner and tossing to first for an inning-ending doubleplay.
The bottom of the inning didn't get off to a great start for Tucker. On a 2-2 count to the nine-hole hitter, Kory Winnings, Tucker unleashed a pitch that appeared to go behind the batter, who skipped out of the way. But the umpire ruled that it hit Winnings and awarded him first base.
But that was the last Vipers base-runner of the game. Nowell grounded into a force at second then, on a grounder to Schmidt by Cameron Blann, East took the throw for a force and fired to Hoover at first. It was a wide throw but Hoover hit the ground fully extended, made the catch and somehow got his toe back on the bag before the speedy Blann could get there, resulting in an inning-ending doubleplay.
Christian Harp led off the top of the seventh for the Sox and hit a grounder to third. Quiggins bobbled the ball a little but gained control. Rushing a throw to first, however, he was wild. Harp reached first and was set to stay there but the ball got under the fence down the right-field line, unplayable. So, Harp was awarded second.
With one out, Harp moved to third on a wild pitch then East smacked a bouncer to the right of Winnings at second, who tried to make a backhand play. But all he could do was knock it down and East had his second hit of the game along with an RBI as Harp scored the go-ahead run.
After two were out, Hurt pulled a single into left to bring up Orender. A wild pitch allowed East to go to third as Hurt held, unable to see how far the ball got away from catcher Nick Jones.
The count went to 3-2 on Orender when Hurt left early from first. Johnson turned and threw to shortstop Cameron Johnson who ran Hurt back towards first as he tried to keep an eye on East at third. Right after one of those peaks, East took off. Cameron Johnson made a move to throw home but saw it was too late and proceeded to rundown Hurt for the final out. But the play gave Bryant a two-run advantage.
Hayden Seay led off the bottom of the ninth with a drive to left-center that seemed destined to get down for extra bases but Allen, sprinting over from center, ran it down for the first out. Lance Harville-Thomas of Crowder Junior College and Little Rick Catholic High School, was up next trying to add to a 2-for-2 night with three runs scored and an RBI. But Tucker got him to pop to Allen in center for the second out.
Tucker ended it by striking out Quiggins on the eighth pitch of the at-bat to end the game.
To start the game, Quiggins had allowed just two base-runners in the first three innings. He'd hit Tucker to start the game and walked Harp with one down in the third.
Meanwhile, the Vipers took a 3-0 lead. In the first, Blann drew a one-out walk, took second on a wild pitch and third on a passed ball as Harville-Thomas drew a two-out pass. After Harville-Thomas stole second, Quiggins lashed a single to left to drive in both.
Cameron Johnson, who was 3 for 3 in the game, followed with a single but Tucker fanned Gavin Johnson to end the inning.
Tucker worked around a lead-off single and an error in the second. With runners at the corners and two out, Little Rock tried to steal a run as the trail runner, Bailey Butler, left first early. But Bryant worked the rundown efficiently and got a tag on Butler for the third out before the lead-runner, Jones, could score.
In the third, however, Harville-Thomas doubled off the wall in left. Quiggins bounced to first, moving him to third for Cameron Johnson, who beat out an infield hit to drive in the run.
Bryant got its first hit and first run in the top of the fourth. With one out, Allen hit a pop up that no one could get to. He stole second, went to third on a wild pitch and scored on Hurt's sacrifice fly.
Tucker needed just seven pitches to get through the home fourth. And, in the fifth, the Sox scratched out another tally. Shurtleff laced a single to center then was sacrificed to second by Schmidt. He made a nice base-running move to get to third on Hoover's chopper to short then scored on a passed ball.
The Sox were within 3-2 but Little Rock tacked on in the bottom of the inning, which began with singles by Nowell and Blann. Tucker struck out Scott but Harville-Thomas slapped an RBI single to right. Quiggins followed with a shallow fly down the left-field line that was mishandled, loading the bases for Cameron Johnson. His sharp single to left drove in a pair to make it 6-2.
Tucker hung in, however, and kept it to that by retiring the next two batters and forcing the Vipers to strand runners at the corners, setting up the Sox' comeback.