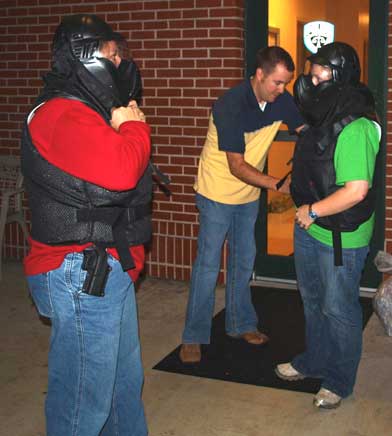 By LANA CLIFTON
The Bryant Police Department conducted its third class of the Citizen's Police Academy on Tuesday, Oct. 6. On that night, participants in the class were taught about traffic stop procedures. The goal of the class was not to make participants experts in traffic stops, but rather to allow them to see a traffic stop from an officer's perspective.
After some brief instructions, Sgt. Jenceson Payte directed the group to separate into teams of two. When each team's turn came up, the pair donned protective head, chest and neck gear and armed themselves with a special training gun loaded with plastic bullets.[more]
Each team had a chance to act out scenarios as police officers. They were led to the back of the police station where a police cruiser sat with its lights flashing. A truck was sitting in front of the cruiser and Payte instructed the teammates to approach the vehicle as if they had just pulled the driver over for a traffic violation. They made their approach four different times with four different situations in which the driver and passenger of the vehicle involved in the traffic stop acted in unpredictable ways. Each team had a turn to go through the simulations. They were not allowed to watch previous teams, so what occurred was a surprise to each team.
After all teams had a chance to conduct the simulated traffic stops, Payte spoke to the group about what officers go through on a daily basis. He told the group the scenarios they had acted out were based on real incidents.
"There is no such thing as a routine traffic stop," explained Payte.
He stressed the importance of all the different information an officer must process as he or she approaches a vehicle. From being aware of traffic going by to closely watching the movements and attitudes of the driver and passengers in the vehicle, the officer must concentrate and stay alert. Payte said this concentration may account for the perception by some that officers are not always cordial during traffic stops.
"They have to be cautious because of the target they become every time they put on their uniform," said Payte.
One way the officers are trained to be aware of what might happen is to watch videos of actual traffic stops that did not end well. Payte shared a few of the videos with the class and explained how quickly something can go wrong in any given situation. The process of learning about these different dangers and how to prevent them when possible is intended to make officers more effective at their job and keep them safe.