For much of the off-season, week two on the Bryant Hornets' football schedule was empty.
"We couldn't find anybody to play us," related Hornets head coach Buck James Thursday. "That's just the truth of it."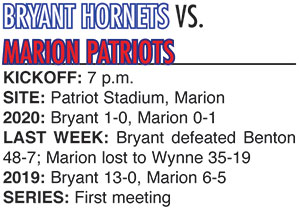 At one point, there was the possibility that the Hornets would play in San Antonio, Texas.
"Well for us to go San Antonio, it was going to cost us about $20,000," the coach related. "We're not a border town. For us, it would cost a great deal of money to go 6 to 8 hours out of state. You're talking about missing school. Some of it's a plane ride. Some of it's a bus ride. Some of it's a two-day trip. So, you know it's a way more a daunting task than what people think it is.
"Fortunately, Marion called us and said that they couldn't find anybody either," he continued.
What they had, had fallen through and we said we'd play them. Then they call us back and sayd they found somebody. So, then we started searching again."
It went back and forth, on again, off again for about a week. And it was getting late in the process, late February, early March.
"It got to the point where we were going to have to play or not play," James recalled. "Finally, everything had been exhausted on their end, so they were stuck with playing us."
Marion is a 6A school, picked to finish fourth or so in the 6A-East. The Patriots are comparable to Benton, whom the Hornets beat 48-7 last week in the Salt Bowl.
James, who has coached at Star City and Camden Fairview, always believed it was good to play someone in a higher classification in a non-conference game.
"I think it's good," he stated. "I know, if I was in your situation, I would want to do it.
It's a way for them to measure their team.
"You know, so many times we get caught up in wins and losses," the coach said. "I think who you play is much more important. They've got another game after this. They can learn from us. I know when I've been at smaller schools, we always played schools a lot bigger than us, schools that were challenging because they got us ready for the conference.
"I know Bo Hembree at Warren does the same thing. He plays a lot of teams out of his classification. He's played teams that he probably, on paper, had no chance of beating but he was a better for it in the long run.
"You know, the way football is now it's not like it used to be where everybody's running the football, getting tangled up," James added. "We're playing basketball on grass, you know? The chances of getting hurt or something, is as it would be if you're practicing."
And, the coach said, his Hornets can learn from playing Marion.
"They're a very athletic, big football team," he said, "They've got as good athletes as we're going to see all year long. I think it helps us to see those kinds of players because we're going to see them again against central or we're going to see them against Southwest. So, we've got to be ready for those kinds of teams.
"We both can go and get better," the coach concluded, "We've got seven more games after this to try to prepare ourselves for.
And that's the bottom line.
"We're trying to do is get better and trying to prepare our guys for the conference," James said. "Our conference is probably the toughest conference in the state of Arkansas, if you look at the scores and who everybody's playing. You look up in the North, those guys are having to go out of state to play their games. They can do that because they're all nearer to border states. Anytime you play a game, you've got a chance to get better and I think that's the end result. I want to be good as I can be in our toughest conference games.
In the win against Benton, James said, he saw that kind of improvement, particularly for his inexperienced defense.
"I thought we improved a tremendous amount from the time we started until the game was over," he acknowledged "I can see our young guys and our inexperienced guys gaining confidence. Defensively, we started out the game just trying to figure out if we can play any defense and, by the end of the game, we had a little swagger. I thought they really showed a lot of courage and, to step up on those fourth-down plays and stop them and get our offense the ball —you know that's the key to it anyway. Just get stops.
"I think our offense can be fine," he continued. "I don't I don't think we hit on all cylinders, but I thought we played well enough to do what we did. We've got to get better now.
"But I thought our defense and our offense got better as the game went on. I thought we were much improved from the Pulaski Academy game. I thought we were much improved from our two scrimmages we had before that."
"I think individually we got better," the coach related. "I can't say we got better as a team yet because there's so much things that we got to see from the whole field perspective versus just in groups and in drills. But I feel like our guys are getting better. They're understanding their roles more. They understand that they are part of a defense or their part of an offense, they're not the defense or the offense. But they have to work together as a team, as a group to make this thing work."
Paraphrasing Yogi Berra, James said, "'Ninety percent of this game is half mental.'"
He was referring to his defense's improvement, as they gain confidence.
"I think 90 percent of what we're doing wrong is mental," he said. "I don't think it's the physical part. I think we've got the physical part.
"I think we think too much," he added. "I think that's why we played better on a short field than we do with the whole field in front of us, because we don't have to think. We don't have to react. All we've got to do is play football.
"That tells me that we're inexperienced," the coach said. "It ain't that we can't play defense, it's just that we've got too much thinking going on and, until it becomes rote memory and you've seen everything that you're going to see and you've done everything that you're going to do and then you can practice that every single day — and then them understanding that maybe the best offense they're going to see all year, they're practicing against every day. They get demoralized in practice and then they don't carry it to build on in games. We're young and where we're not young we're inexperienced but those are things that are definitely fixable and they definitely can play to our advantage as the season goes along."