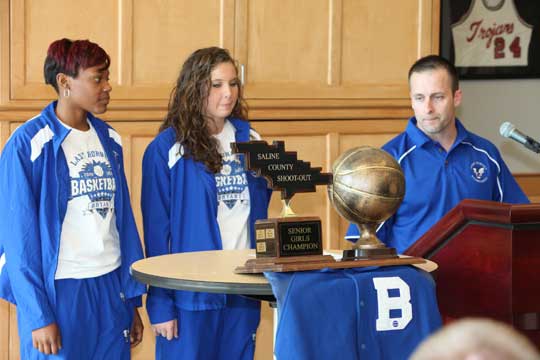 LITTLE ROCK — There was an emotional moment during Wednesday's press conference announcing the festivities surrounding the 2009 Salt Bowl Shootout basketball games between Bryant and Benton. Gary James of Coca-Cola, who was emceeing the event, announced that the games, played at UALR's Jack Stephens Center, would include a fund-raiser. Donation buckets will be placed at area banks and schools and, along with donations from pictures taken with Santa who will be at the game, funds collected will go to the Multiple Sclerosis Society.
"Besides just the games, we want to try to give back to our community," James said. "Just like the football game (when funds were collected for the Arkansas Rice Depot)."
James then introduced Debbie Broadway, wife of State Senator Shane Broadway.[more]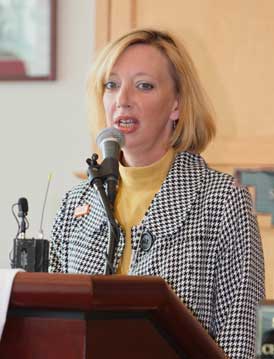 "You have no idea how personal this is to me," she said. "I have Multiple Sclerosis. I've had it for 20 years, fighting it on a daily basis. So when the (organizers) decided this, it touched my heart in a way that I never thought it would. It's awesome.
"The message that I have received is not only about love and outreach," she added, "but that we all are going into a battle, be it a basketball battle with the Shootout or joining with the Multiple Sclerosis Society. We battle to find a cure for MS. And we all enter into it to win and I thank you all from the bottom of my heart."
The Shootout, which will be held at the Stephens Center on Friday, Dec. 18, is sponsored Coca-Cola, Jones Heating and Air, Big Red stores, and Everett Buick Pontiac GMC. In addition, the tickets to the game will include a coupon for a free sandwich from Chick-fil-A.
As with the Salt Bowl football game, Everett Buick Pontiac GMC will give someone a chance to win a truck at halftime of both games. Participants will be determined by 3-point shooting contests to be held at the Bryant and Benton gyms, respectively, this Saturday. Contestants will be given 30 seconds to make five shots at designated points around the 3-point line. Details and registration forms are available at www.bentonvsbryant.com.
All entrants will receive a ticket to the game and a Salt Bowl Shootout t-shirt. Winners in the 9-12 age group will receive a bike donated by Coca-Cola. Other age groups (13-16, 17-21, 22-and-over) will receive a backboard and goal set from Coca-Cola. The winner at each gym will also be entered into the Everett halftime shootout for a chance to win a vehicle donated by the dealership. The contest will be a progressive shooting contest in which contestants will have to make a layup, a free throw and a half-court shot to win the vehicle.
Doors will open at the Stephens Center at 5:30 p.m. Fans will be greeted by Christmas carols sung by the Benton High School choir and the Bryant High School choir. The girls game will commence at 7 p.m., followed by the boys game. Both bands will be on hand as will the dance teams and cheerleaders.
Noting the success of the football Salt Bowl, James said, "We started football a few years ago with just four or five thousand people (attending). That game is up to 25,000-plus. Is that not awesome? I'd like to think that we can make this basketball thing turn into an amazing event. Our goal is to make this one of the largest basketball events in the state."
The coaches for the respective teams were on hand, girls coaches Blake Condley of Bryant and Jerry Chumley of Benton along with boys coaches, Ron Marvel of Bryant and Chris Nail of Benton. The Bryant coaches brought along players, Kenzee Calley, Alana Morris and K Ron Lairy.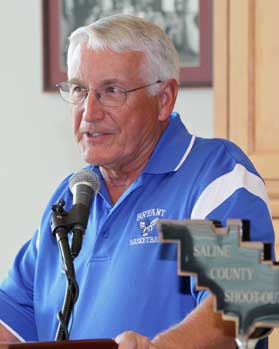 All of the coaches thanked the sponsors and organizers.
"I'm really excited about the direction that the Shootout's going," said Condley. "We're making great strides to make a great event here in central Arkansas.
"The Lady Hornets are 4-0," he continued. "I'm really happy with the chemistry on our team. I've got six seniors this year, a couple of juniors and seven sophomores. But those six seniors have really taken ownership with the goals that they've set for themselves. They're really buying into the fact that it's about more than just the individual.
"Kenzee and Alana are two of my seniors. They're great leaders, great kids, great students. I'm already dreading the time when I have to go out on the floor without these two young ladies and their four other classmates."
Regarding the game, Condley said, "It's one of those where records go out the window. It doesn't matter what's happened up until that day. The kids are going to come with so much energy and so much intensity, it's going to be the ultimate battle. Whenever that ball goes up, nothing matters other than the kids giving everything they've got to try to put that trophy in that trophy case at their school."
Coach Marvel talked about his team, saying, "We started off the season better than we had hoped. We've won three and lost two. It reminded me of a good friend of mine who once told me, 'Well, we won our first game this year then it kind of tapered off after that.' So, I really don't know what to expect from my kids. I don't know if we're going to taper off or we're going to get better. But I do know they play hard, they try hard, they work hard. They're good kids.
"I know this game is a toss-up," he added. "I think it'll be a good game. I think people will enjoy watching the game. I've been 40 years in the state of Arkansas watching basketball and football, and I've not seen a rivalry that equals this one. This is the biggest one. And I've been around all of them. The Southsides and the Northsides, even the Jessievilles and the Fountain Lakes, those kind of rivalries. This is the biggest one in the state."
Chumley said, "It sounds like it's going to be a pretty big show. I hope the show at the tip is as good as the show around the game is going to be. We're happy to be a part of it.
"The Lady Panthers are off to a pretty good start," he added. "We're 3-5 on the year and I know that's not a great record right now but all of our games have been close. They've been very competitive. We start five seniors this year, which I've never had in my career. We're starting to figure out what we're going to be like and how things are going to go. We're putting it together so we're excited about that. We're excited about the game.
"The past three or four years I've been at Benton, the Shootout hasn't gone our way yet but we hope to change that," Chumley continued. "We'd like to get this trophy and put in our case for a year or so. We're ready for the challenge. Probably on paper we're the underdog but we like that role and we'll be ready.
"Blake and I are really good friends for 364 days of the year. We won't be real friendly on the 18th. Blake really does a good job with his team, getting them ready to play but no matter what's going on with the teams at the time of the Shootout, both teams play very hard. It's a big game for the kids. I played in this game. It wasn't called a shootout back when I played but it's always special for the communities and the kids involved. It's going to be fun."
"I'm not from Saline County but when you see what kind of community that we're involved with, you know why people who move to Saline County to live," Nail said. "I think we're headed in the right direction with this event too. I think this could be one of the biggest high school basketball events of the year and that's because of all the people that work behind the scenes so hard, athletic directors, community leaders. It's going to be a great, great night."
Turning to his team, Nail said, "This is my third year at Benton and we've been fortunate since I've been there. We've had two outstanding years. We graduated eight seniors last year and, this year, we're starting a couple of sophomores and three juniors. I like our team. I like our talent level. Right now, we're playing up and down. We're looking forward to the game. It certainly means a lot to the boys at Benton High.
"Bryant hasn't won the trophy and we sure hope they won't get it this year," he added. "Coach Marvel's taken over and is doing an absolutely great job. He's a Hall of Fame coach for a reason. So, we know it'll be a great challenge. We're looking forward to it. I really think this is going to turn into a really special event."