EDITOR'S NOTE: The Bryant 10-year-old All-Stars are headed to the Cal Ripken World Series in Winchester, Va., on Friday, Aug. 12. This is part of a series of profiles of the players on the team.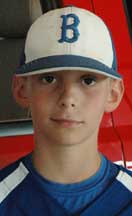 NAME: Coby Brett Greiner
PARENTS' NAMES: Jason and Mendi Greiner
SIBLINGS' NAMES AND AGES: Caleb, 7 and Caroline, 4
FAVORITE SUBJECT IN SCHOOL: Math
WHAT DO YOU LIKE TO DO FOR FUN? Play baseball, or any other sport
FAVORITE FOOD: Steak and baked potato
FAVORITE MUSIC ARTIST OR GROUP: Poison[more]
FAVORITE MOVIE: Dumb and Dumber, The Sandlot, The Blind Side
FAVORITE TV SHOW: ESPN's Sportscenter
FAVORITE PRO BASEBALL TEAM: New York Yankees
FAVORITE PRO BASEBALL PLAYER: Derek Jeter
FAVORITE THING ABOUT BASEBALL: Winning!!
YOUR POSITION(S): Second base, left field, pitcher
AS A BASEBALL PLAYER, WHAT DO YOU DO BEST? Bunting and fielding
WHAT DO YOU TRY HARDEST TO IMPROVE ON IN PRACTICE? My hitting
WHY WILL THE BRYANT ALL-STARS WIN THE WORLD SERIES? Because we want it bad!