With the approach of the Babe Ruth Southwest Regional Tournament for 14-year-olds, BryantDaily.com offers a chance to get to know the players on the host team which recently captured a State championship.
Josh Davis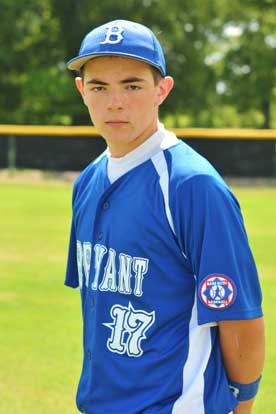 Date of birth: Feb. 23, 1995
Parents' names: Eddie Davis
Siblings' names and ages: Christina Davis, 16; Danielle Davis, 10
Favorite subject in school: History
Favorite spare time activity: Baseball
Favorite food: Steak
Favorite music artist or group: Green Day
Favorite movie: The Longest Yard
Favorite TV Show: Sportscenter
Favorite pro baseball team: St. Louis Cardinals
Favorite pro baseball player: Albert Pujols
Favorite thing about baseball: Catching
Position: Catcher
What's your approach at the plate? Just put the ball in play
What's your approach in the field (or on the mound, if applicable)? Just try your best.
Individually, what about your game are you most confident about? My catching
What do you work hardest to improve? My hitting
The Bryant All-Stars will win the Regional tournament because: We work the hardest, practice the most, and have the best three coaches