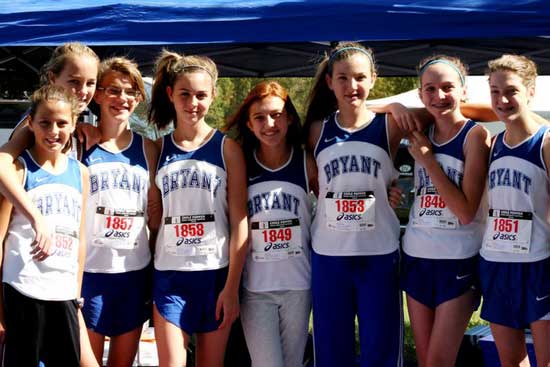 FAYETTEVILLE — The Bryant Lady Hornets cross country team competed at the Chile Pepper Invitational Saturday held at the University of Arkansas. The meet is one of the largest in the country and includes both college and high school divisions.
Bryant scored 530 points and placed 17th out of 43 teams and were fifth among Arkansas teams. Nationally-ranked Saratoga Springs, N.Y., won the championship with 37 points. There were 312 total runners in the race.[more]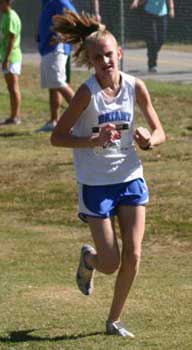 Hannah Raney was the Lady Hornets' lead runner finishing in 49th place with a near school record time of 20:03. Also competing were Stacy Emmerling (108th, 21:24), Lauren Rogers (117th , 21:32), Marley Adams (130th, 21:51), Skylar Oswalt (157th, 22:23), Ashlyn Lessenberry (166th, 22:38), Kat Bolton (177th, 22:55), and Mikayla Douglas (224th, 24:16).
"I thought we had a much better effort team-wise at this meet than we did last week at Lake Hamilton," commented Lady Hornets coach Danny Westbrook. "Batesville beat us at Lake Hamilton and we beat them by 55 points today.
"I was proud of Hannah," he added. "She was on pace to break her school record, but a slow second mile hurt her chances. She still was only five seconds off the record at the finish."
The Bryant Junior Lady Hornets, who usually race two miles, got to step up to 5K (3.1 miles) at the Chile Pepper Invitational. The team finished ninth overall with 292 points. They were the seventh Arkansas team. There were 29 teams and 377 total runners in the race.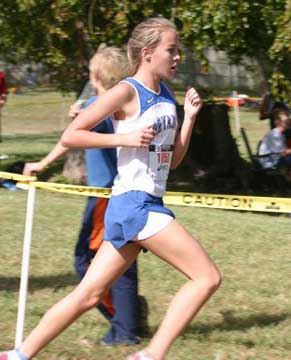 Eighth-grader Lindsey Butler led the way for Bryant finishing in 45th place with a time of 23:00. Not far behind was Caitlyn Bell at 53rd place in a time of 23:12. The rest of the Junior Lady Hornets were Jenna Freeman (62nd, 23:17), Sara Cowell (79th, 23:43), Emma Schock (94th, 24:02), Megan Hodge (111, 24:32), Caroline Cato (143rd, 25:10), Sam Macchi (160th, 25:27), Briana Rutherford (210th, 26:48), and Emily Ball (321st, 30:43).
"Our junior girls did a great job handling the extra distance in their race," Westbrook said. "They competed hard and had a good showing in such a huge field of teams and runners."
Next up for the Lady Hornets will be the 7A Central Conference Meet at Cabot on Monday, Oct. 25. Bryant will be trying to make it two conference titles in a row, having won the championship in 2009.
The junior girls will next race at the Walmart Junior High Championship on Saturday, Oct. 30.