Rare doubleplay helps Junior Sox hold off Black Cats
EDITOR'S NOTE: Because the look back at each day in Bryant athletic history has been so favorably received during the time when there was no sports during the COVID-19 shutdown, BryantDaily.com will continueposting past stories of Bryant athletics either posted on BryantDaily.com (from 2009 to the present) or published in the Bryant Times (from 1998 to 2008).
Photos by Kevin Nagle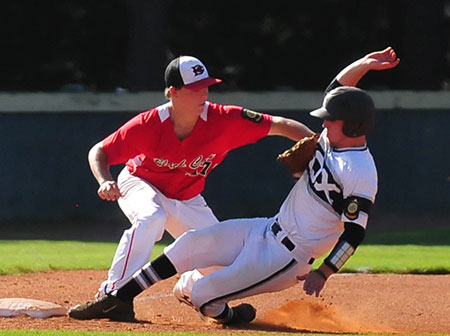 The Bryant Black Sox Junior American Legion team had been cruising along with a 4-0 lead and with right-hander Coby Greiner working on a no-hitter. But, in the bottom of the sixth inning, the Acme Brick Black Cats, based in Magnet Cove but with players from all around that area, rallied. Not only did they break up the no-no, they cut the lead to 4-3 and had the bases loaded with one out.
Greiner had given way to Logan Catton, who was working to get Acme's Bryce Brownlee out. He was the eight batter to come to the plate in the inning.
But, on a 2-2 count, Catton caught Luke Upton off third base and made a splendid pickoff throw to Christian Harp. The Sox executed the rundown between home and third so well that when the runner at second, Ethan Cervela tried to sneak into third, catcher Jake Wright, who had tagged out Upton, started at Cervela who got trapped in his own hot box. The Sox continued their defensive execution and Harp wound up tagging Cervela out to end the inning.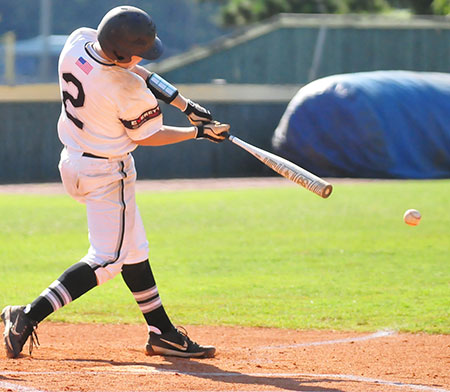 Yes, Bryant went from bases-loaded-one-out to out of the inning with the remarkable doubleplay.
And, in the top of the seventh, they added to that tenuous lead with four runs on the way to an 8-4 win that advanced them to the winners' bracket finals of the Area Tournament at Bryant High School Field. The Sox will take on Sheridan Taylor & Lunsford at 7:30 p.m., with the winner advancing to the championship round and clinching one of the two bids to State that the tourney will produce.
The Sheridan team advanced with a 7-4 win over Hot Springs Lakeside earlier in the day. Later, in the first elimination contest, Sheridan Peoples Bank stunned Benton Sport Shop, 6-4, in nine innings to stay alive.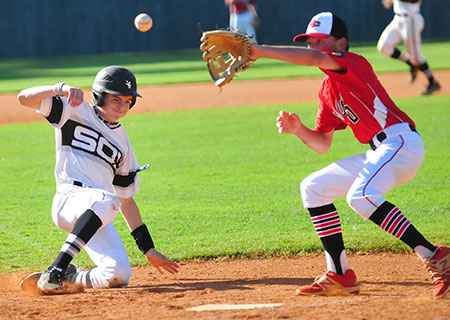 Elimination games on Monday will include Acme Brick versus Benton Everett Infiniti at 2:30 p.m., then Lakeside against Peoples Bank at 5.
Greiner, who retired 10 in a row during one stretch over the first five innings, had allowed only a walk in the first and a hit batsman in both the fourth inning and the fifth inning.
The Sox built the 4-0 edge with a run in the first and three in the third.
Catton opened the game with an infield hit. Greiner sacrificed him to second then consecutive hits by Wright and Harp brought him around.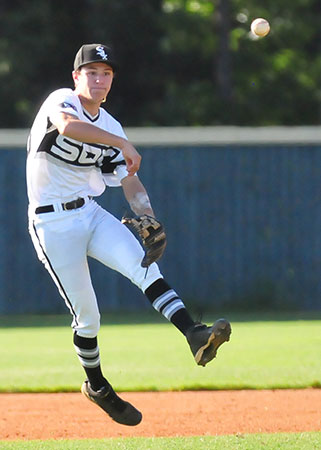 In the third, Catton was again the instigator. He was struck by a pitch from Acme starter J.T. Higdon. With one out, Wright shot a liner beyond the reach of the leftfielder for an RBI double. Harp followed with a single up the middle that chased in Wright, making it 3-0 and forcing a pitching change.
Peyton Dillon bounced into a force at second but, moments later, Cade Drennan drilled a liner down the left-field line for an RBI double.
Bryant had a chance to get more when a wild pitch allowed Drennan to take third as Brayden Lester was earning a walk. Lester stole second, bringing up Zion Collins who made a bid at driving them home with a liner to right that held up just long enough to get caught for the third out.
Acme's sixth-inning rally began with an infield hit by Ben Slate, which broke up Greiner's no-hit bid. Ethan Bates grounded out to short as Slate took second. Greiner's first walk since the first inning, allowed Javin Shirley to reach bases. Slate stole third then Noah Lankford walked to load the bases.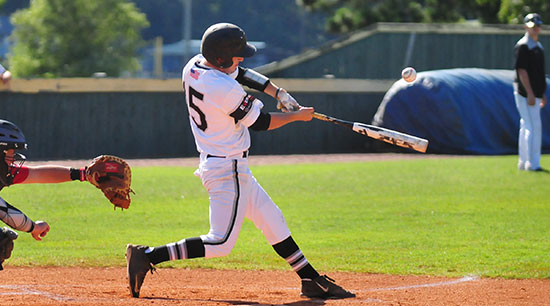 The very next pitch, Upton singled in a run then Cervela drove one hit with a hit to left. Catton was called on to relieve and had an 0-2 count on Higdon who sliced the next pitch for an RBI single to right that made it 4-3 with Brownlee coming to the plate.
After escaping that comeback, the Sox increased the advantage again in the top of the seventh. Wright walked and advanced to third on a pair of wild pitches from Slate, the fourth Acme pitcher, who then hit Harp with a pitch. Dillon got a bunt down and Slate tried to get Wright coming home but his throw was errant. Wright scored, Harp wound up at third and Dillon raced to second on the play.
Drennan hit a grounder to first and Higdon threw home in time to retire Jarod Yarborough who had come on as a pinch-runner for Harp.
It was beginning to look like it would be a frustrating inning for the Sox getting just one run out of all of that but Lester came through with a two-run double. He then scored on a single by Collins to make it 8-3.
Catton retired the first two batters of the home seventh but Slate doubled and Ethan Bates singled him home. Shirley blooped a single to right but Acme would score no more as Lankford flew out to Greiner in center to end the game.
JUNIOR AMERICAN LEGION DISTRICT TOURNAMENT
At Bryant High School Field
Saturday, July 8
Game 1 — Hot Springs Lakeside 12, Benton Everett Infiniti 2
Game 2 — Acme Brick (Magnet Cove) 4, Sheridan Peoples Bank 2
Game 3 — Bryant Black Sox 3, Benton Sports Shop 1
Sunday, July 9
Game 4 — Sheridan Taylor & Lunsford 7, Hot Springs Lakeside 4
Game 5 — Bryant Black Sox 8, Acme Brick Black Cats (Magnet Cove) 4
Game 6 — Sheridan Peoples Bank 6, Benton Sports Shop 4, 9 innings
Monday, July 10
Game 7 — Acme Brick Black Cats (Magnet Cove) vs. Benton Everett Infiniti, 2:30 p.m.
Game 8 — Hot Springs Lakeside vs. Sheridan Peoples Bank, 5 p.m.
Game 9 — Sheridan Taylor & Lunsford vs. Bryant Black Sox, 7:30 p.m. (winners' bracket final)
Tuesday, July 11
Game 10 — Game 8 winner vs. game 7 winner, 5 p.m.
Game 11 — Game 9 loser vs. game 10 winner, 7:30 p.m.
Wednesday, July 12
Championship round
Game 12 — Game 9 winner vs. game 11 winner, 6 p.m.
Game 13 — if needed, 30 minutes after game 12