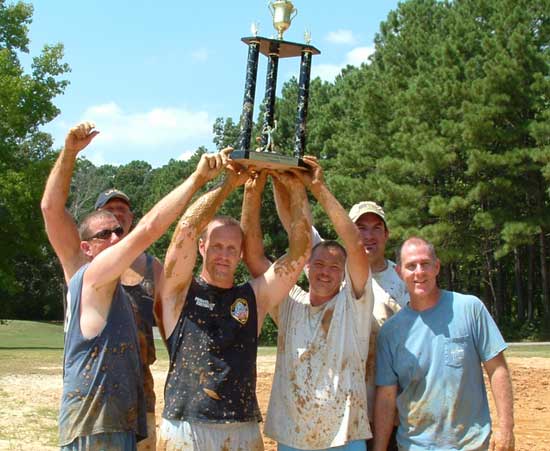 By Martin Couch
The Bryant Parks and Recreation Department hosted the first MudBowl volleyball games at Mills Park in Bryant on Aug. 28 in conjunction with the American Red Cross.
Derek Phillips, of the Bryant Parks and Recreation Department, ran the event that saw the team Animal House of the Little Rock Fire Department take the championship in the mud-volleyball matches. The second place team was 5 Hoses and a Gun from Little Rock and in third place was team Summit.[more]
"This was a fun event to raise money for the Red Cross," Phillips said.
First Security Bank of Bryant provided the food for the games and Adam Carson of Bryant was on hand to treat any injuries. Also, the American Red Cross set up a blood drive during the all-day event.
"The Bryant Fire Department, the Bryant Parks Department and the American Red Cross raised nearly $2,000 for the blood drive," Phillips said.