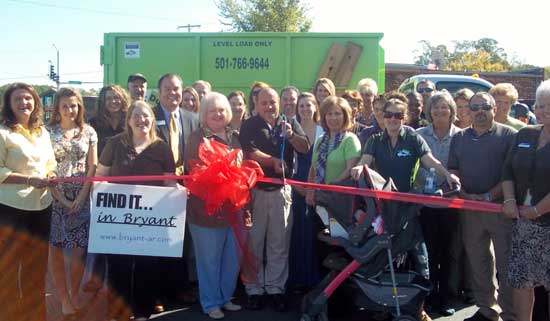 Bin There Dump That parked one of its bright green bins in the Bryant Chamber of Commerce parking lot for[more] a ribbon-cutting ceremony on Thursday, Oct. 13. The Chamber's Ambassador Committee along with friends and family of the owner, Pat Blakely, gathered to snip the ribbon.
Those on hand included, front row, Barbara Riggin, Erica Loftis, Larissa Greek, iBERIABANK; Sue Stivers, FedEx; Patrick Blakely, Bin There Dump That; Kim Blakely; Rachael Rice with daughter Riverleigh in stroller; Cheryl Lewter, Landers; Mike Blakely, AAA Cooper; Karen Grice, Heartland Community Bank; second row, Melissa Weeks, The Gann Agency; Steven Long, iBERIABANK; Kathy Pannell, Bank of the Ozarks; Shannon Koder, JoBeth Horness, Alice Screws, Priscilla Moore, iBERIABANK; back row, Kristy Byrd, Bank of the Ozarks; Rob Patrick, Bryantdaily.com; Rebecca Pianalto, Saline Courier; Jeff Richardson, Bank of the Ozarks; Teresa Kemp, iBERIABANK; Kathy Larson, Courtyard Cottages; Nick Gann, The Gann Agency.
Bin There Dump That provides mini-disposal and environmental services for those who need more room in their garage, more space in storage buildings or are cleaning up a yard, renovating or roofing.
The bins include rear doors that open for walk-in loading; four convenient sizes. The company takes precautions to protect driveway surfaces, offers professional and courteous serves while serving the central Arkansas area.
Call 501-766-9644 or visit www.bintheredumpthat.com for more information.