RUSSELLVILLE — Ever since the one that got away to open the season at Lake Hamilton, the road has been a tough place for the Bryant Lady Hornets to win and, on Tuesday, Sept. 15, their trip to Russellville was no different.
The Lady Cyclones jumped on the Lady Hornets early with a 25-9 win in the first game. Though Bryant turned things around in the second to win 25-19, Russellville took the match with close wins in the last two games, 25-21, 25-22.
The Bryant JV, however, managed to prevail over the Russellville JV, 25-18, 25-16.[more]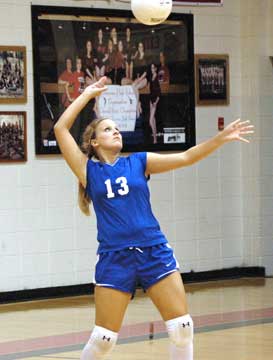 "Our JV team played well," commented Lady Hornets coach Beth Solomon. "I am very disappointed in how the varsity team played. We had some key players that we count on, shut down.
"On the upside, we had some players really step it up," she added. "Amber Cope had an outstanding game and worked hard at her position. Lauren Reed did an excellent job playing back row."
Cope was good on 95 percent of her attacks, finishing with six kills. Reed led the team with 32 good passes. She also had eight digs along with Heather Light. Mordan Crider led with 10.
Taylor Shutt led Bryant with 10 kills. Brianna White had six and Kayla Davidson five. White also had three solo blocks.
Jordan Armstrong contributed 19 assists.
The Lady Hornets only had six service errors with Armstrong getting in all 13 of her serves. Kasey Baker and Cope each contributed three aces.
"As a team, the girls did not work together," Solomon stated. "The effort that they usually put forth to win was not present. We will definitely be fixing this for Thursday."
That's when Bryant hosts perennial State power Conway.
In the JV game, Jenna Bruick and Peyton Thacker each served up five aces. Thacker also had two solo blocks and five digs. Light added five digs and Maggie Hart had six.
Hart also led with five kills. Jenifer Hubbard led with seven assists.