EDITOR'S NOTE: BryantDaily.com welcomes all political candidacy announcements and offers to help produce them. We will attempt to post announcements with a minimum of editing. We encourage voters to be discerning. BryantDaily.com does not endorse candidates.

Rob Roedel, a 16-year resident of Bryant, has filed for re-election for the Bryant City Council[more] as the alderman for Ward 3, Position 2.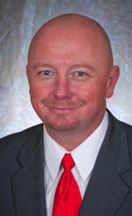 "During the past two years, I have enjoyed representing the interests of the residents of Ward 3," said Roedel. "I work to find solutions to issues that face our city. Oftentimes, there are strong opinions on issues and the key to success is compromise. By working diligently we can bridge differences in opinions and improve the efficiency of our city government."
Rob and his wife Carrie have been residents of Ward 3 in Bryant since 1996. They have two children, Torrie, a Bryant High School graduate, and Jake, an eighth grader at Bryant Middle School. He is employed as the corporate communications manager for the Electric Cooperatives of Arkansas and has more than 23 years of business management experience in the marketing and communications field.
A native of Jonesboro, Roedel holds a Bachelor of Science degree in journalism from Arkansas State University. He serves as a board member for the Arkansas Broadcaster's Association and on a number of associations in the electricity and communications arena. The family attends Midtowne Church.