Senior tight end Nate Rutherford has received the Brandon Burlsworth Award, it was announced[more] by Bryant Hornets head coach Paul Calley Tuesday night at the post-season banquet.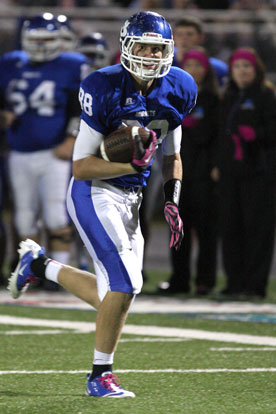 Each year every high school football program in Arkansas nominates one player from their team to receive the Brandon Burlsworth Award.
According to the Brandon Burlsworth Foundation, the player should demonstrate the drive, diligence to school, and good moral character that the former Razorback All-American and Indianapolis Colts player was known for. He must demonstrate a desire to succeed at the highest level, a willingness to overcome life's obstacles, and welcomes the challenges that lie ahead. The recipient must have a strong work ethic, character and a willingness to go beyond what is expected of him.
Burlsworth went to the University of Arkansas as a walk-on and left as an All-American. He was drafted with the 63rd overall pick by Indianapolis in the 1999 NFL draft. Tragically, only days after his first mini-camp with the Colts, he was killed in a car accident.
The Foundation was founded in June of 1999 in his honor. The goal of the foundation is to develop and implement programs for the benefit of needy and underprivileged children.