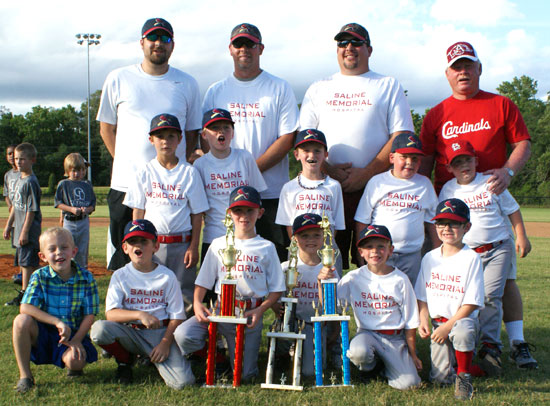 The Saline Memorial Cardinals finished off a 20-0 season with regular-season and post-season[more] tournament championships recently in the Bryant Athletic Association's Instructional League.
The Cardinals are managed by Brian Terry with assistance from Randy Allison, Chris Cobb and Joey Gregory. Members include Zac Carson, Carter Cobb, Carson Gregory, Carter Gregory, Avery Heidelberg, Evan McCrary, Peyton Potter, Branton Prather, Ayden Sharp, Tyler Spear and Brayden Terry.
After winning the pre-season tournament with a 3-0 record, the team entered regular-season play and reeled off 11 victories before sweeping three games in the post-season tournament at Bishop Park.
The tournament wins were 13-3 over Arvest, 6-3 over Landers and, in a thriller of a championship game, 8-7 over Floors & More.
The regular season results began with a 7-5 win over Landers followed by a 12-6 victory over Everett Buick GMC and a 6-0 victory over Oltmans Development.
The campaign continued with a 12-1 win over Arvest; a 5-0 decision over Elder Law and a 7-0 win over Floors & More. After a 9-1 win over Rena Gilliam All-State and an 8-1 victory over Ace Sign Company, the Cardinals finished with a 7-1 win over Wayne Hughes Construction, a 5-1 victory over Hill Development and a 4-0 decision over Olly Olly Oxen.