Photos by Kevin Nagle
In the 40th year of their rivalry, the Bryant Hornets and the Benton Panthers will meet for the 42nd time this Friday in the 15th Salt Bowl at War Memorial Stadium.
Game week got its official kickoff on Monday evening in the press box at the stadium with the annual press conference for area media.
The game is this Friday at 7:30 p.m., with Arkansas' Largest High School Tailgate Party beginning at 5 with the gates to the stadium opening at 5:30. At last count, over 60 booths will be set up as part of the tailgate party. Local financial institutions will be giving away hot dogs and drinks.
Head coach Paul Calley and two of his seniors, safety Brenden Young and quarterback Brandan Warner represented the Hornets while head coach Scott Neathery and two of his seniors, wide receiver/running back Drew Harris and safety Stone Paul.
Former Speaker of the House in Arkansas Shane Broadway, who represented Saline County, was once again the emcee for the event, held just before the start of the Arkadelphia-Stuttgart game at the stadium.
Bryant will be the home team this year so Neathery and his players led off the proceedings.
"We're always excited to use this game as a way to bring two great communities together over a football game to give back to our communities," Broadway said, referencing the charitable fundraising tie-ins including the blood drives at each high school on Sept. 22 (Bryant) and Sept. 23 (Benton), a Text to Give for the American Cancer Society prior to kickoff and a peanut butter drive currently being held in both school districts for Rice Depot.
"One of our partnering charities is the American Cancer Society and one of the reasons for that is, as many may remember, Coach Neathery's bout with cancer," Broadway mentioned. "It was diagnosed on this date in 2006. Thankfully, since 2007, he's been in remission. That's a blessing. It's a way also for us to give back and to say thanks to all those who helped Coach back then but also to help many others in our community."
Broadway, Calley and Neathery each thanked the sponsors for Salt Bowl 2014: Everett Buick GMC, Jones Heating and Air, Big Red Valero, GM, Bryant Braces, Chick-Fil-A, Arkansas Copier, Benton Chamber of Commerce, Bryant Chamber of Commerce, Keith Brooks State Farm Insurance, Saline County Solid Waste Management, Ortho-Arkansas, Republic Services, Saline Memorial Hospital, Bin There Dump That, Chris Kinzler and Arkansas National Guard.
Everett is set to host a Community Pep Rally for Bryant tonight at 7. On Wednesday, it will host a Community Pep Rally for Benton at 5:30 p.m.
Here's what the coaches and players had to say.
Neathery: "First of all, I just want to thank everybody for coming out. I want to thank our athletic directors and our sponsors, Shane, everyone that helps put this on because I know this is a special time for these young men, both teams. Not very many high school kids get to play in an atmosphere like the Salt Bowl.
"We say it every year but it's something you really don't need to take for granted because it really is a special deal these guys to be able to play in a game like this.
"This year we feel really good about our football team. We had a great summer, great summer workouts, did well in 7 on 7 and team camps. We feel good about our guys. We feel like, potentially, we could have the best group I've had in five years. It could be the best group we've had in a while in Benton.
"We think it's going to be a great ballgame. It'll probably be highly competitive so everybody come out and watch. It ought to be a good time.
"With me, I've got Drew Harris. He's a newcomer to the ball game. He came with his dad, who is the new defensive coordinator for us. Drew's going to play a big role for us. He plays a lot of different positions. He's a running back. He's an inside receiver. He's going to return punts, return kickoffs. He does just whatever we need him to do. He's a good young man.
"Then we have Stone Paul, he's a safety for us, a three-year starter and, boy, he's key in what we do defensively."
Harris: "I didn't really know I was going to be up here talking so I didn't really prepare anything. I'm new to Benton. I'm from Lincoln, Arkansas with about 1,000 people in the town. Now I'm in Benton, with 30,000.
"I'm really excited about the year. Like Coach Neathery said, I move around a lot, play a lot of positions and I feel excited about it.
"I'm new to the Salt Bowl. I'd heard of the Salt Bowl before I came here, heard there was about 25,000 people. The most I ever had watching me was about 4,000 maybe. I'm ready for kickoff, ready to get going."
Paul: "I'm not going to get up here and talk about a lot of things. I'm more worried about just playing right now, just ready to get started. We've been working hard all summer and we're just ready to play now."
Calley: "I'd like to reiterate what Coach Neathery said about thanking everyone that's involved in this event. It's tremendous. It's great for the kids. It's great for the communities and it's great that we're able to give back.
"I know our guys are excited about the start of a new football season. It seems like it's been forever. We've been practicing since the end of last season. There's not time off. We take a week off then we get started once again. Our two-week dead period (in the summer) is about the longest break our guys get. So they're excited about getting back on the field, excited about this coming Friday night and the Salt Bowl.
"The two players I have with me today are Brandan Warner. He's a returning starter at quarterback. And Brenden Young. He started at running back last year. He's going to start at safety this year. Both these young men are leaders by example. They're also vocal leaders and I depend on them very much. They're very mature, very good football players. I'm certainly glad they're on my side."
Warner: "I've been dreaming of this day ever since I was — I don't know, ever since I moved here. I was 8 years old when I moved here and I've always dreamed of my senior Salt Bowl as the starting quarterback.
"It's just a big game and for us as a football team, the Salt Bowl means a lot to a lot of people. A lot of people think about the tradition and alumni. But, for our football team this year, it's definitely a journey that we're starting on because this year we're heading towards a State championship. That's what we're shooting for. And the Salt Bowl is definitely the starting point and that's how we look at it this year. Thank you."
Young: "I just want to start off by saying our biggest focus right now is starting off the season right with a win. This is obviously a big deal to be in high school, it's the closest thing to a college game you get to. So we're just looking to enjoy ourselves and give people a show."
Broadway: "I do want to show you one thing. This is the official coin of the Salt Bowl. Thanks to Everett Buick GMC, this will be the coin that is tossed on Friday night. Our honorary captains are the Benton High School principal Lita Gattis and the new Bryant superintendent, Dr. Tom Kimbrell.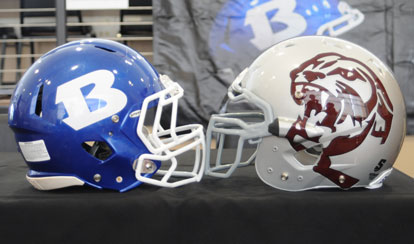 "This is the coin that will be used and it is a coin given — Coach (Bryant athletic director Mike) Lee and I were talking about this — this is a big deal for these seniors. This is a coin that's given to every senior player, cheerleader, dance team member and band member. So it's become a special token for these seniors. It's really neat that they get to keep a part of the Salt Bowl with them for the rest of their lives and pass this down to their children and grand-children.
"And that's the special thing about this game, the thing I always enjoy. When we get done with all the pre-game festivities — and by the way, we've really worked to cut down on how much I'm going to talk this year and I know you'll be excited about that. Believe me, I'm excited about that. So we've cut back on that, moved some things around, so you (coaches) can come back not expecting a penalty at halftime. Thirty minutes, that's the goal. It was 43 minutes last year. Somehow, we're going to get it down to 30 this year. I'm getting too old for this. I've got to go to bed. I can't stay up until 10, 11 o'clock to watch you guys play. I hope y'all run the ball a little bit and run that clock.
"But the thing I love is once we get done with all that, is going up — whoever's in this tunnel, this year it'll be Bryant — and watching those kids and their eyes as they're about to run out into that stadium. And you've got 20,000-plus people who are waiting on them. It's a big deal. That's what makes it so special. That's what makes it worth all the time and effort. It's making a memory that they'll have for their lifetime."
Question: "For the coaches: The game's moved back to the first week this year. How is it different for you guys preparing instead of having the players looking ahead to a game in week 3 or whenever? What's been different this year?"
Neathery: "I think Paul would probably say the same thing, I like it week one. We have the press conferences. We get the hoopla, all that stuff. It's kind of one of those deals, you look forward to this game but I'll tell you it's kind of nice when it's over with and 'Now, hey, let's get going with our season.'
"So, I like it. As far as getting ready, you do have a little longer to get ready, about a week and a half after your scrimmage. As far as playing the first game of the year, I really like it the first game of the year. It's 'let's just go ahead and do it; let's play it' and, like I said, let's get on with the rest of the season."
Calley: "I do like having it first. Playing it week 4, you do get a better look at what the other team is doing offensively and defensively. I know (Neathery) is going to change up a little bit. He's not going change a lot. We've probably made more adjustments than Benton has.
"But going ahead and playing it, getting it out of the way and really getting your players focused on the rest of the season rather than adjust for the big Salt Bowl game, it helps to go ahead and get it done.
"And I think it helps pay the bills too. I think the crowd, week one, is better."
Question: "What's it like starting out on a neutral field? I realize it's the opening game and this rivalry goes back many years but not opening and getting used to the environment on the road or opening up in front of your home fans but being a neutral field, what's it like?"
Calley: "Playing here in front of so many people, it's an adjustment because of the noise. You go out to practice every day and it's quiet and you can call the snap count, you can communicate on the line of scrimmage and everybody knows what's going on. But when you get out here, the first quarter, it's deafening. You'll see a lot of procedure penalties, false starts, miscommunications. We've burnt timeouts, two or three in the first quarter before, just trying to get people to settle down.
"Luckily for us, we got to scrimmage here last week so I think maybe it got some of the jitters out for us. But it is definitely difficult in front of 20,000 people."
Neathery: "For your first ballgame, you're always going to have some things go wrong, I guess. Just getting used to ballgame situations and the noise. I agree with that 100 percent. There's been times we can't hear the (coaches) upstairs just because of the noise in the stadium. Sometimes our headsets just go out with all the noise. So that's definitely an adjustment for that.
"Also, kind of what Paul said a while ago, playing someone first, especially a big rival like this, when you really haven't seen what they're going to do this year. You've got to be ready for anything.
"But, as far as playing here, I think it's a great atmosphere to play. I think both of us are pretty used to playing here, both teams, so it's not that big a deal where we're playing. It's just the noise factor."
Question: "Any key injuries? I know it's the first game but has there been anything is scrimmages or practice that may rear their ugly head Friday night?"
Calley: "Do we get fined if we don't tell the truth on this one?
"We've had several bumps and bruises. We had a concussion last week. I think he's going to be fine. We've had ankle problems, feet problems but, hopefully, all of that's going to be solved by Friday. The normal wear and tear, bumps and bruises; I think this week — we practiced today — we're going to start winding it down towards Friday.
"We felt like there were some things we had to get done today so we have plenty of time to rest so we'll be fresh coming into Friday's game.
Neathery: "Kind of the same thing, we've got a couple of guys with ankles, things like that. We have a three-year starter offensive lineman that's been out all summer but thinking he's going to be back for the ballgame.
"I really think we're going to be very healthy for the ballgame."
Calley: "On a positive note, our young man Devin Howard, played middle linebacker last year as a sophomore, tore his ACL in the Salt Bowl, was cleared to play Friday. We're excited about having him back.
"He worked so hard to try to get back. He was supposed to be cleared about a month ago, didn't get cleared. He was devastated. That day, he really wanted to give up but he hung in there, he kept working, and he's going to be able to play Friday."
Question: "Does this look like it will be maybe something that will happen every year now, that it kicks off the season versus the third or fourth week of the year?"
Calley: "I think so. Coach Lee, correct me if I'm wrong, but we're going back to the Central Conference and we will most likely not be in a conference with Benton from now on so it will be week one."
Other information:
—                    Fans can follow official Salt Bowl twitter account for official information @SaltBowlAR
—                    Saline Memorial Hospital is providing the Ambulance service
—                    Halftime will include a performance by Benton and Bryant bands combining to perform a Patriotic Theme. Also both dance teams and cheerleader will perform.
—                    Will also include Chick-Fil-A Kickin for Chickin and Everett Throw for a Truck
—                    The Donnie Burks and Rob Patrick Community Service Awards will be presented prior to Kickoff
—                    Future Panther and Future Hornet players will be introduced prior to kickoff