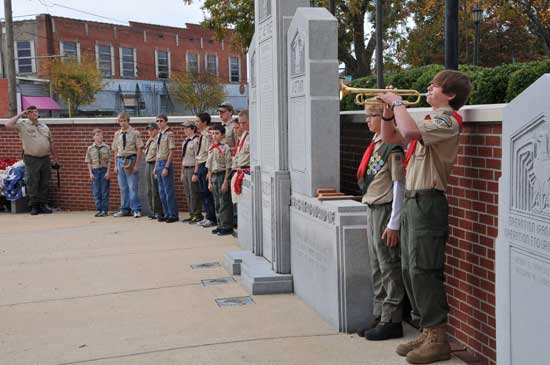 BENTON — The Ouachita Area Council of the Boy Scouts of American held its annual Flag Retirement ceremony at[more] the Saline County courthouse on Saturday Nov. 12. The Council is comprised of Two Districts (Nisca Sipo) and Diamond Lakes. These two districts are comprised from six counties – Clark, Hot Springs, Garland, Pike, Montgomery, Saline.
"We retired flags according to the BSA publication 'Your Flag'," said John F. Jackson, a committee member for the Council and former Scoutmaster for Troop 99, chartered by Salem United Methodist Church. "'When our national flag is worn beyond repair, cut it into small pieces that will burn easily and completely on a modest, but blazing fire. This should be done in a simple manner with dignity and respect. Be sure the flag is reduced to ashes unrecognizable as a former flag.'
"We actually separated the stripes from the flag and then the field of blue with the stars before retiring them," Jackson mentioned. "The grommets were removed from the flags and, following the ceremony, were handed out to all veterans in attendance first and then to adults as a remembrance and memento of the flags retired."
Around 150 people attended including several Scout troops and Cub Scout packs.
"Veterans are invited to participate as well as the whole community," said Jackson. "We started preparing the flags for retirement around 9:30 a.m. The actual ceremony started at 11. It was finished about 11:40."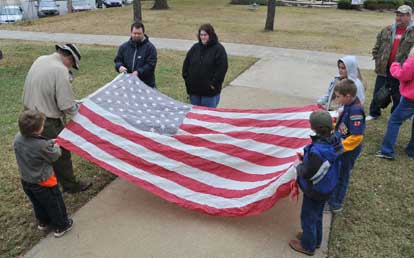 The ceremony started with Justin Karp playing the Star Spangled Banner on the trumpet. Nathan Hill was the Master of Ceremonies for the program. The Honor Guard was John Michael Gillespie, Nick Thomas, and Nate Thomas. There were many scouts serving as Cremation Guards.
"Many of the Cub packs helped with flag preparation and as Retirement Honor Guards for retiring the flags," Jackson related.
The ceremony concluded with retiring the flags and Karp playing taps on the trumpet.
"Hopefully this is something that we can continue and build upon," Jackson said. "We would sure like everyone to know and hope that all will participate next year around Veterans Day."