Editor's note: We received a call and this email about a lost pet.
Hello,
My name is Trish Bertani and I live in San Antonio, TX. A travelling nurse Annie Demirel was[more] overnighting in your town and her cat escaped her carrier at the Cracker Barrel. I know this may be too much to ask but I was wondering if there is any way your paper could run a bulletin of some sort for several days to alert the neighbors. She has booked 7 nights to stay in town now to find her.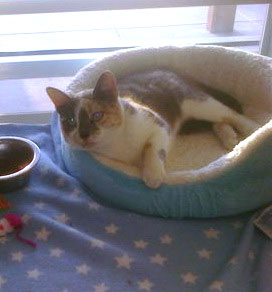 I have reached out to the Bryant Animal Control trying to get trapping assistance to find little Molly. We are all devastated, Annie Demirel especially. She adopted Molly from us here in Texas two years ago and she attended my wedding last year, she is a dear friend of ours in many ways.
Molly has white legs, white stomach and light grey and light orange 'saddle' on her back. She was lost three nights ago when her carrier separated. There is a WalMart apparently pretty close to the Cracker Barrel and a Holiday Inn. She ran behind the Cracker Barrel.
My number in San Antonio is 210-683-6412 and Annie Demirel's number is 617-401-6105. If I have to drive up there after she leaves to get her I will so you can put both of our numbers.
I am not sure what you can do but if you have any ideas for us we would be beyond grateful and forever in your debt.
Thank you,
Trish