Photos by Rick Nation
SHERIDAN — When the Sheridan Yellowjackets scored a goal with 4:33 left in the first half[more] to cut into the Bryant's 2-0 lead Thursday night, there could've been the thought among the Hornets that it was looking a little too much like their tussle with the rival Benton Panthers nearly two weeks ago for comfort. The Panthers wound up upsetting the Hornets, who were previously unbeaten in the South Conference.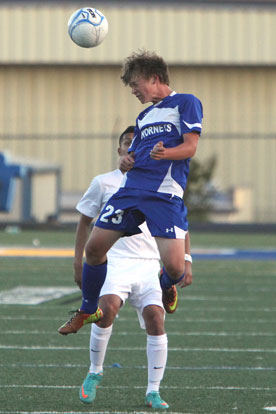 The slim 2-1 lead lasted until halftime at Sheridan but, in the second half, Bryant re-established its dominance on the way to an 8-1 victory.
The Bryant junior varsity team continued its unbeaten, unscored-upon roll with a 4-0 victory.
"I thought we did a good job of not panicking," stated Hornets coach Jason Hay. "They scored off a really good long free kick.
"We had not played a real game since Benton, so it was good to see our guys possess the ball well and making good decisions."
The trio of Bryce Denker, Blake Reed and Dylan Wolf each had two goals for the Hornets. Justin Travis, and Bryan Oldham contributed goals to the onslaught.
"Our mids did a good job of defending and controlling the game," Hay stated. "Our goal is to get better each game and I think our guys did just that. Hopefully, we can carry that into the Texarkana game."
The Hornets are set to host the Razorbacks tonight hoping to improve on their 15-2-1 overall record and 10-1 conference mark.
Reed started the scoring in Thursday's match after the two teams played without a score for 25 minutes. Denker got the assist. Travis added a second goal at the 9:52 mark with Cameron Furton providing the feed.
The second half barrage began with Reed's second goal off a pass from Wolf at the 29:11 mark. Denker got a penalty kick into the net at 27:59 then scored again at 25:31 with Wolf picking up his second assist.
At 22:29, Oldham scored off an assist from Jeremy Anderson and, in the final 15 minutes, Wolf tacked on a pair of goals with Denker and Reed providing the assists.
In the JV game, Houston Chavis scored two first-half goals with Evan Caddy and Krishna Gurung getting the assists. Gurung had the assist on a goal by Caddy and Caddy had another assist on Corey Laisure's goal.