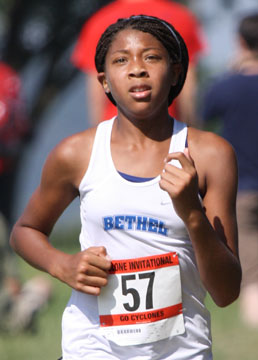 Photos courtesy of Jason Majors
Mary Catherine Selig led the Bryant Junior Lady Hornets with a 15th-place finish individually at the Cyclone Relays on Saturday. Selig won a top 20 medal for her performance.
Though the leaders were posted at the meet, the official results weren't posted on-line as they are usually so no complete results were available. But on the Bryant parents took a picture of the first page posted at the meet, listing the Lady Hornets' top seven finishes.
Selig finished in a time of 14:00. Bailey Brazil was the team's second finisher, coming in 24th with a time of 14:26. Lauren Hart was Bryant's third runner. Her 15:02 was good for 34th overall. Alyssa Rowland also finished in the top 40, taking 39th with a time of 15:02.
Rounding out the Junior Lady Hornets' top seven were Olivia Orr (45th, 15:16), Gianni Hulett (46th, 15:20) and Carissa Colclasure (51st, 15:24).
The Bryant teams will travel to Fayetteville this Saturday for the annual Chile Pepper Classic, featuring teams from several states and a college division as well.