By Rob Patrick
Photos by Rick Nation. For more, go here.
As if to prove the claim by some that he could fall out of bed and hit a line drive,[more] Hunter Mayall, in his first at-bat in a game since last summer and facing the 90-mph-plus fastball of Benton McClendon's Coy Fitzhugh, smoked a BB to left field that handcuffed outfielder Jacob Keeney. The drive, which Keeney misplayed, was ruled a sacrifice fly and an error as it plated B.J. Ellis with the first of three key insurance runs for the Bryant Black Sox in the bottom of the sixth.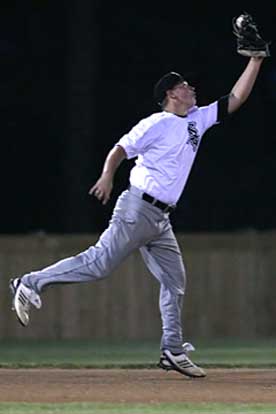 McClendon's had trimmed Bryant's lead to 5-4 in the top of the inning but the Sox went on to nail down an 8-5 win in their Senior American Legion debut at Bryant High School Field on Wednesday night.
Jordan Taylor picked up the win on the mound allowing six hits without a walk with eight strikeouts in 5 1/3 innings. All four of the runs he allowed were unearned. Dylan Cross got the save by pitching out of a two-on, one-out jam in the sixth and allowing a run on two hits in the seventh.
The Black Sox racked up nine hits including two each by Landon Pickett and Chris Joiner, highlighted by Joiner's two-run triple in the five-run third.
"I thought Jordan threw well and I thought Cross came in and kind of took to that role that we're wanting him to take on," commented Sox manager Darren Hurt. "He was fired up about it and he went in and I thought he did a really good job."
The game was marred by seven errors between the two teams to go with a few mental miscues on defense.
"I thought that we looked like we hadn't played in a while," Hurt acknowledged. "That was pretty rough. Defensively, we had some stuff that — typically we won't make those mistakes."
Taylor and Benton's Gene Duncan dueled over the first two innings. In the third, Benton grabbed a 2-0 lead, aided by a two-out error. Bryant third sacker Tyler Brown robbed Matt Frelin of a hit for the second out but Briar Sample beat out a bunt single. The inning appeared to be over when Brown made a sparkling stop on a shot by Levon Steward toward third but, appearing to rush because of Steward's speed, Brown overthrew first.
As a result, McClendon's had runners at second and third for Duncan who slipped a single through the middle to drive both home.
Steward and Duncan each had two of Benton's eight hits in the game.
Taylor struck out Chase Southworth to end the inning there and he and his teammates countered with a five-run outburst.
A one-out walk to Tyler Nelson opened the door but it took a two-out hit by Taylor to get things going. Pickett followed with a shot that shortstop Michael Pope barely had time to move on. It went off the tip of his glove and into left for an RBI single.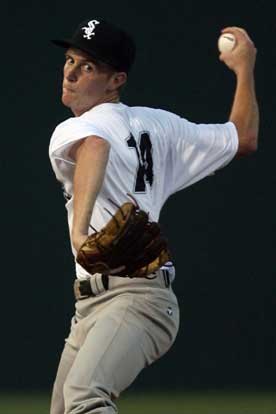 Joiner followed with a shot to left for a two-run triple, giving Bryant a 3-2 lead.
Lucas Castleberry shot a single to left to plate Joiner, advancing to second when the ball was misplayed. B.J. Ellis, back after playing for the Pulaski Tech baseball team this spring, slapped a single to right to put runners at the corners.
Ellis then got trapped in a hot box between first and second. Castleberry broke for home and drew a throw to the plate only to slide in safely, making it 5-2.
"(Duncan) had our number the first time through," Hurt allowed, "then we really got on him the second time through. He was starting us with fastballs every time. That's what we kept talking about, sit on the fastball early and don't take pitches. Just jump on the first-pitch fastball, be aggressive. Maybe that was part of it along with just seeing him the second time."
Both pitchers retired the side in order in the fourth. In the fifth, Taylor surrendered a one-out single to Frelin and a two-out, two-strike double to Steward. But he struck out Duncan to end the threat.
The fire-balling Fitzhugh relieved for McClendon's in the fifth and struck out the side around a bad-hop single by Joiner.
The sixth proved to be an eventful inning. To start the top of the frame, Southworth popped up on the infield but none of the Sox could get to it and it dropped. Ryne Besancon followed the a shot down the right-field line on an 0-2 pitch that went for an RBI triple.
Taylor steadied and struck out Keeney then got pinch-hitter Corky Welch to bounce to Brown at third. Coming forward to field the ball, Brown fired to the plate. The throw appeared to be in time but it short-hopped Ellis, the catcher. He was unable to hold it and make the tag so Besancon was safe, making it 5-4.
Pope followed with a tap that Taylor fielded. In hopes of turning an inning-ending doubleplay, Taylor whipped a throw to second but it was off line and Welch was in safely as Pope reached.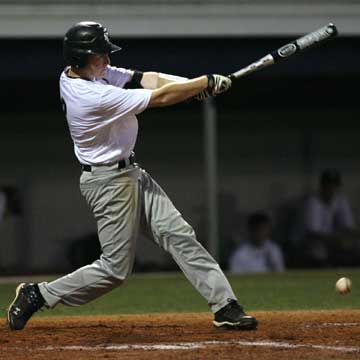 Up to 80 pitches in the game, Taylor gave way to Cross as Frelin stepped in. On an 0-1 pitch, Frelin hit a liner that Nelson, now at second, jumped up and grabbed. He quickly tossed to Taylor, coming over from shortstop, for an inning ending doubleplay.
But the lead was down to one. The Sox needed some insurance and they got it.
Ellis drew a lead-off walk then Josh Pultro pushed a bunt past the mound into an area left open by Besancon's aggressive move to cover first as Welch charged in from first. The bunted liner rolled through the infield and into shallow right as Pultro hustled into an uncovered second base bag with a rare bunt double.
Ellis, who wound up at third on the play, came home on Mayall's pinch-hit shot to left as Pultro held at second. With Caleb Garrett in to run for Mayall at first, Nelson sacrificed the runners to second and third.
With two away, Taylor drew a walk to load the bases. Pickett then bounced one to short. Pope bobbled the ball but still had time for the force at second except that his rushed throw sailed past Besancon and into right field. Both Pultro and Garrett scored to make it 8-4.
In the seventh, Steward beat out an infield hit with one out, moved to second on a grounder to first by pinch-hitter Ryan Bewley and advanced to third on a balk as Cross tried to spin into a pick-off. The right-hander was within a strike of ending it when Southworth doubled down the left-field line to make it 8-5.
It ended there, however, when Besancan tapped back to the mound.
The Sox return to action this Friday night at 8 in a tournament in Jonesboro. They'll be taking on a team from Kansas City, Mo.
"I'm sure they'll be good but that's what we're going up there for," Hurt mentioned.
BRYANT 8, BENTON 5
Senior American Legion
McClendon's TV & Appliance ab r h bi Black Sox ab r h bi
Steward, cf 4 2 2 0 Nelson, ss-2b 2 1 1 0
Duncan, p 3 0 2 2 Brown, 3b 4 0 0 0
Fitzhugh, p 0 0 0 0 Taylor, p-ss 3 1 1 0
Bewley, ph 1 0 0 0 Pickett, 1b 4 1 2 1
Southworth, 3b 4 1 1 1 Joiner, lf 4 1 2 2
Keeney, lf 3 0 0 0 Castleberry, 2b 3 1 1 1
Hicks, 1b 2 0 0 0 Hurt, 2b 0 0 0 0
Welch, 1b 1 0 0 0 Cross, p 0 0 0 0
Pope, ss 3 0 0 0 Ellis, c 2 1 1 0
Frelin, c 3 0 1 0 Pultro, cf 3 1 1 0
Sample, rf 3 1 1 0 Jobe, rf 2 0 0 0
Mayall, ph 0 0 0 1
Garrett, pr 0 1 0 0
Totals 31 5 8 4 Totals 27 8 9 5
Benton 002 002 1 — 5
BRYANT 005 003 x — 8
E—Southworth, Brown 2, Keeney 2, Taylor, Pope. DP—Bryant 2. LOB—Benton 6, Bryant 6. 2B—Steward, Pultro. 3B—Joiner. SB—Nelson, Ellis, Castleberry. S—Nelson. SF—Mayall.
Pitching ip r er h bb so
Benton
Duncan (L) 4 5 5 7 1 5
Fitzhugh 2 3 1 2 2 3
BRYANT
Taylor (W, 1-0) 5.1 4 0 6 0 8
Cross (S, 1) 1.2 1 1 2 0 0
Balk—Cross.