Editor's note: This is a regular feature profiling senior athletes at Bryant High School.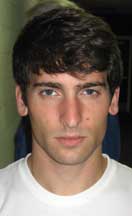 NAME: Brendan Guffey
PARENTS: Tamera and Michael Guffey
SIBLINGS: I have one brother. He's 22, named Ryan Guffey.
FAVORITE SUBJECT IN SCHOOL: English
WHAT DO YOU LIKE TO DO IN YOUR SPARE TIME? Hang out with my buddies, play Playstation, just relax, if I ever can.
FAVORITE FOOD: Pasta, pizza, Italian food.[more]
FAVORITE MUSIC ARTIST OR GROUP: Bullet For My Valentine and Three Days Grace are probably my two favorite
FAVORITE MOVIE: Batman, the Dark Knight. The intro is pretty sweet.
FAVORITE TV SHOW: Family Guy
WHAT WAS YOUR FAVORITE TOY AS A KID? Legos, until you stepped on them.
WHAT ARE YOUR PLANS AFTER HIGH SCHOOL? Probably going to UALR, stay somewhere close and, as for a career choice, I'm kind of juggling that right now.
OTHER THAN YOUR PARENTS, WHO HAS HAD THE BIGGEST INFLUENCE ON YOUR LIFE? My grandparents. If my parents aren't always telling me, giving me the right direction, my grandparents are.
FAVORITE THING ABOUT CROSS COUNTRY: The friends and their commitment to help you and your commitment to help them, just like one big family.
WHAT'S YOUR APPROACH TO A RACE (Strategy/Preparation)? Before a race, we usually try to have a little song and we pray a little bit and just jog it out every once in a while. Try to keep up with everybody. Even if you can't, try to hang in there as long as you can. Just don't die.
WHAT DO YOU THINK OF THE SEASON? Not my favorite season. Honestly, ninth grade year was probably my favorite. I did the best in that one. But, overall, it was kind of a rough season this year.
WHAT'S BEEN THE HIGHLIGHT TO THE SEASON? Making it to State.
AFTER YOU'RE THROUGH RUNNING CROSS COUNTRY AT BHS, WHAT DO YOU THINK YOU'LL REMEMBER MOST FONDLY ABOUT IT? A question that I'll always ask myself about it is why and how did a keep managing to keep doing this sport. It was probably to keep myself in shape and to stay with my buddies.