Editor's note: This is a regular feature profiling senior athletes at Bryant High School.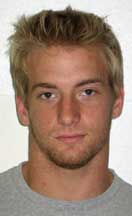 NAME: Jacob Powell
PARENTS: Randy and Sandra Powell
SIBLINGS: An older brother, Ethan; two younger brothers, Austin and Lucas. Ethan's 20, Austin's 17 and Lucas is 15.
FAVORITE SUBJECT IN SCHOOL: History
WHAT DO YOU LIKE TO DO IN YOUR SPARE TIME? Anything outdoors
FAVORITE FOOD: Steak
FAVORITE MUSIC ARTIST OR GROUP: Country[more]
FAVORITE MOVIE: Probably, Never Back Down.
FAVORITE TV SHOW: That 70's Show
WHAT WAS YOUR FAVORITE TOY AS A KID? I played outside more than I played with anything else.
WHAT ARE YOUR PLANS AFTER HIGH SCHOOL? To pursue something like my dad does and help him out with his business or branch something else out similar to his business. He builds irrigation systems.
OTHER THAN YOUR PARENTS, WHO HAS HAD THE BIGGEST INFLUENCE ON YOUR LIFE? Probably my friends and my girlfriend. They've just always made me stick with it and keep going no matter what.
FAVORITE THING ABOUT FOOTBALL: The hitting
POSITION: Defensive end
WHAT DO YOU FEEL LIKE IS YOUR PRIMARY RESPONSIBILITY ON THE FIELD? Veer or close, veer or close, veer or close.
WHAT DO YOU THINK OF THE SEASON SO FAR? I'm pretty excited. We've done better than everybody thought we would do.
WHEN THE TEAM'S DOING WELL, WHAT'S IT DOING? We just have to have a good week of practice and have our minds right, even up to where we go out to play.
WHAT'S BEEN THE HIGHLIGHT TO THE SEASON SO FAR? Beating all those teams that Hooten's (Arkansas Football) said we wouldn't beat.
WHAT'S IT GOING TO TAKE FOR THE TEAM TO BE SUCCESSFUL THE REST OF THE SEASON? Just keep our minds right, really. We can beat anybody as long as our minds are right.
INDIVIDUALLY, WHAT ABOUT YOUR GAME ARE YOU MOST CONFIDENT ABOUT? Just read my keys and do what I'm supposed to do, what I've been taught to do, coached to do.
WHAT DO YOU WORK HARDEST TO IMPROVE? Reading my keys as fast as I can and don't get too far up the field and containing.
AFTER YOU'RE THROUGH PLAYING FOOTBALL AT BHS, WHAT DO YOU THINK YOU'LL REMEMBER MOST FONDLY ABOUT IT? Probably just hanging out with my brothers.