Editor's note: This is a regular feature profiling senior athletes at Bryant High School.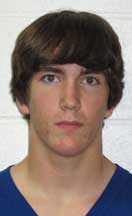 NAME: Kelton Shaw
PARENTS: Greg and Joyce Shaw
SIBLINGS: I'm an only child.
FAVORITE SUBJECT IN SCHOOL: English
WHAT DO YOU LIKE TO DO IN YOUR SPARE TIME? Work
FAVORITE FOOD: Chinese
FAVORITE MUSIC ARTIST OR GROUP: Rock
FAVORITE MOVIE: The Hangover[more]
FAVORITE TV SHOW: Sportscenter
WHAT WAS YOUR FAVORITE TOY AS A KID? Power Ranger toys.
WHAT ARE YOUR PLANS AFTER HIGH SCHOOL? Go to college and get into the medical field, probably at UCA.
OTHER THAN YOUR PARENTS, WHO HAS HAD THE BIGGEST INFLUENCE ON YOUR LIFE? My grandparents. Whenever things would go bad at my house then they would take me in and I could stay there.
FAVORITE THING ABOUT FOOTBALL: It helps build a bond with the people you've gone to school with for so long.
POSITION: Defensive end
WHAT DO YOU FEEL LIKE IS YOUR PRIMARY RESPONSIBILITY ON THE FIELD? Depending on the defensive set we're in, I've got contain or dive player. If the play goes outside, I'm supposed to be there to make the play.
WHAT DO YOU THINK OF THE SEASON SO FAR? I think we surprised a lot of people. We came out a lot better than we were supposed to. It's been a pretty good season.
WHY HAS THE TEAM SUCCEEDED? More heart than most teams.
WHAT'S BEEN THE HIGHLIGHT TO THE SEASON SO FAR? Definitely the Conway win.
WHAT'S IT GOING TO TAKE FOR THE TEAM TO BE SUCCESSFUL THE REST OF THE SEASON? More hard work, focus.
INDIVIDUALLY, WHAT ABOUT YOUR GAME ARE YOU MOST CONFIDENT ABOUT? I don't touch the field much but — I'm smaller, so I have to have better technique than most of the bigger people on the field, quicker.
WHAT DO YOU WORK HARDEST TO IMPROVE? Keeping my pad level down so I don't get blown off because I'm, like I said, smaller than most people they have. I just have to work harder than they do.
AFTER YOU'RE THROUGH PLAYING FOOTBALL AT BHS, WHAT DO YOU THINK YOU'LL REMEMBER MOST FONDLY ABOUT IT? Definitely the senior year. It seems like other years, we've had more athletes and stuff. This year, we're just a bunch of guys thrown together. We've definitely had to work harder than other classes to get where we are.