Editor's note: This is a regular feature profiling senior athletes at Bryant High School.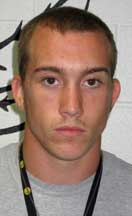 NAME: Logan Howell
PARENTS: Mike and Kay Howell
SIBLINGS: I have one sister. She's younger. And I have an older brother. My sister is 16, Brooke Howell. My brother is 24. His name is Steve Howell.
FAVORITE SUBJECT IN SCHOOL: English
WHAT DO YOU LIKE TO DO IN YOUR SPARE TIME? I like to hunt and fish a lot.
FAVORITE FOOD: I don't have one. I just eat anything that's put in front of me.
FAVORITE MUSIC ARTIST OR GROUP: I like Country
FAVORITE MOVIE: I don't really have a favorite movie.
FAVORITE TV SHOW: I kind of like Burn Notice.
WHAT WAS YOUR FAVORITE TOY AS A KID? My dad gave me a toy bow and arrow that I liked playing with a lot. It got me into hunting.
WHAT ARE YOUR PLANS AFTER HIGH SCHOOL? I haven't really decided yet. I'm planning on going to college but I'm not sure where. I'm thinking of becoming something in the outdoors like a game and fish biologist maybe, something like that.
OTHER THAN YOUR PARENTS, WHO HAS HAD THE BIGGEST INFLUENCE ON YOUR LIFE? My grandpa, for sure. He comes to every football game. He's supported me all the way through school, elementary, middle school. He hardly ever misses anything. He's constantly asking me how everything's going. He's just a huge influence on everything I do.
FAVORITE THING ABOUT FOOTBALL: Just the bond that we have, the friendship I have with these guys, the brotherhood I have with these guys.
POSITION: I play defensive end.
WHAT DO YOU FEEL LIKE IS YOUR PRIMARY RESPONSIBILITY ON THE FIELD? I have to make sure they don't get past me, pretty much; make sure they don't run the ball. I've got to keep from getting blocked and keep from getting juked.
WHAT DO YOU THINK OF THE SEASON SO FAR? I think we've had a great season. I knew we were going to do it. I knew we were going to go this far and we're going to keep going farther. We're going to excel more.
WHEN THE TEAM'S DOING WELL, WHAT'S IT DOING? The team's really playing well when we have a tight bond, we're playing as a unit, as a team, together, which makes it a lot easier, when everybody's getting their job done. I just think we're doing real well.
WHAT'S BEEN THE HIGHLIGHT TO THE SEASON SO FAR? Conway was definitely the season highlight.
WHAT'S IT GOING TO TAKE FOR THE TEAM TO BE SUCCESSFUL THE REST OF THE SEASON? Well, we still have two teams that only have one (conference) loss, North Little Rock and (Little Rock) Central. They'll both be gunning for us because we're on the top and when you're on the top you're going to come after you. So we just have to fight through them to pull off the conference championship.
INDIVIDUALLY, WHAT ABOUT YOUR GAME ARE YOU MOST CONFIDENT ABOUT? I wouldn't say I'm fast but I'm quick enough, I'm strong enough. But I don't really know.
WHAT DO YOU WORK HARDEST TO IMPROVE? Not getting blocked.AFTER YOU'RE THROUGH PLAYING FOOTBALL AT BHS, WHAT DO YOU THINK YOU'LL REMEMBER MOST FONDLY ABOUT IT? My teammates.