Editor's note: This is a regular feature profiling senior athletes at Bryant High School.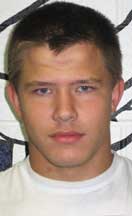 NAME: Michael Smith
PARENTS: Ed Smith and Lisa Whitus
SIBLINGS: I have one brother. He's 25, Thomas Smith.
FAVORITE SUBJECT IN SCHOOL: Does football count?
WHAT DO YOU LIKE TO DO IN YOUR SPARE TIME? Just relax and hang out with my friends
FAVORITE FOOD: Ribs
FAVORITE MUSIC ARTIST OR GROUP: I listen to a little bit of everything.[more]
FAVORITE MOVIE: The Hangover
FAVORITE TV SHOW: Ridiculousness
WHAT WAS YOUR FAVORITE TOY AS A KID? My Red Rider BB gun.
WHAT ARE YOUR PLANS AFTER HIGH SCHOOL? To go to UCA or Fayetteville and try to be a physical therapist.
OTHER THAN YOUR PARENTS, WHO HAS HAD THE BIGGEST INFLUENCE ON YOUR LIFE? My brother, just seeing the way he's grown up and the way he's turned out to be and just trying to make sure I stay on the right path, do things pretty much the same way he did.
FAVORITE THING ABOUT FOOTBALL: The brotherhood, the friends.
POSITION: D-line
WHAT DO YOU FEEL LIKE IS YOUR PRIMARY RESPONSIBILITY ON THE FIELD? Stop the run.
WHAT DO YOU THINK OF THE SEASON SO FAR? I think it's been really successful, a lot better than I was expecting it to be.
WHAT'S BEEN THE KEY TO INTO THE TEAM'S SUCCESS THIS YEAR? Everybody's really worked together. There hasn't been any hostility between other players. We're all just working together to accomplish a common goal.
WHAT'S BEEN THE HIGHLIGHT TO THE SEASON SO FAR? Winning conference.WHAT'S IT GOING TO TAKE FOR THE TEAM TO BE SUCCESSFUL IN THE PLAYOFFS? The same hard work and dedication it's taken so far.
INDIVIDUALLY, WHAT ABOUT YOUR GAME ARE YOU MOST CONFIDENT ABOUT? Stop the run
WHAT DO YOU WORK HARDEST TO IMPROVE? Technique
AFTER YOU'RE THROUGH PLAYING FOOTBALL AT BHS, WHAT DO YOU THINK YOU'LL REMEMBER MOST FONDLY ABOUT IT? I'm probably going to remember the practices, just being there on the turf, talking with everybody, going through all the drills and stuff.