Editor's note: This is a regular feature profiling senior athletes at Bryant High School.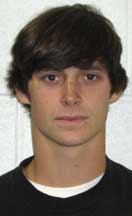 NAME: Sawyer Nichols
PARENTS: Tim and Joanie Nichols
SIBLINGS: I have one brother and one sister. My sister's 24, Taylor; my brother's 22 and his name's Chase.
FAVORITE SUBJECT IN SCHOOL: English
WHAT DO YOU LIKE TO DO IN YOUR SPARE TIME? Hunt, go to the lake.
FAVORITE FOOD: Spaghetti
FAVORITE MUSIC ARTIST OR GROUP: Jason Aldean[more]
FAVORITE MOVIE: Horrible Bosses
FAVORITE TV SHOW: Anything with sports.
WHAT WAS YOUR FAVORITE TOY AS A KID? Probably some kind of ball, baseball or football.
WHAT ARE YOUR PLANS AFTER HIGH SCHOOL? To go to Henderson and get into the medical field.
OTHER THAN YOUR PARENTS, WHO HAS HAD THE BIGGEST INFLUENCE ON YOUR LIFE? Either my brother or sister. They're always there when I've needed them.
FAVORITE THING ABOUT FOOTBALL: Just being with your friends and having fun while also doing something that I love to do.
POSITION: Wide receiver
WHAT DO YOU FEEL LIKE IS YOUR PRIMARY RESPONSIBILITY ON THE FIELD? If the ball comes your way, if it's in the air, you have to catch it. After you catch it, you have to make plays.
WHAT DO YOU THINK OF THE SEASON SO FAR? We've done a lot better than everybody said we would do.
WHEN THE TEAM'S DOING WELL, WHAT'S IT DOING? We work hard, we work good together.
WHAT'S BEEN THE HIGHLIGHT TO THE SEASON SO FAR? I guess, beating the teams that they've had us being beaten by, beating the teams they didn't have us winning against.
WHAT'S IT GOING TO TAKE FOR THE TEAM TO BE SUCCESSFUL THE REST OF THE SEASON? Keep working hard in practice and staying together.
INDIVIDUALLY, WHAT ABOUT YOUR GAME ARE YOU MOST CONFIDENT ABOUT? Catching ability.
WHAT DO YOU WORK HARDEST TO IMPROVE? Speed and routes.
AFTER YOU'RE THROUGH PLAYING FOOTBALL AT BHS, WHAT DO YOU THINK YOU'LL REMEMBER MOST FONDLY ABOUT IT? Friends and having fun.
\