Editor's note: This is a regular feature profiling senior athletes at Bryant High School.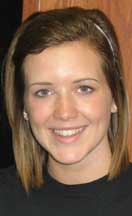 NAME: Sydney Hall
PARENTS: Krista Buck and Jerry Buck
SIBLINGS: I have a brother, Caleb Buck. He's 21. Then my little sister is 11 and her name is Jessica.
FAVORITE SUBJECT IN SCHOOL: Math
WHAT DO YOU LIKE TO DO IN YOUR SPARE TIME? Hang out with my friends and watch TV a lot.
FAVORITE FOOD: Steak
FAVORITE MUSIC ARTIST OR GROUP: The Icarus Account[more]
FAVORITE MOVIE: I like all the Harry Potter movies.
FAVORITE TV SHOW: Property Brothers
WHAT WAS YOUR FAVORITE TOY AS A KID? I had a cat. It was like as big as me. It was a stuffed cat like the one on The Aristocats.
WHAT ARE YOUR PLANS AFTER HIGH SCHOOL? I'm going to the U of A to major in interior design.
OTHER THAN YOUR PARENTS, WHO HAS HAD THE BIGGEST INFLUENCE ON YOUR LIFE? Probably Ms. (Nancy) Lafferty. I've had her for three years now. She's the Student Senate teacher and she's just so sweet. She just has a really big heart. We always do stuff then she just goes out of her way to make sure that everybody's involved and everybody's taken care of. She's just a very giving person and I admire her.
FAVORITE THING ABOUT CROSS COUNTRY: All the girls, my friends.
WHAT'S YOUR APPROACH TO A RACE (Strategy/Preparation)? I don't really prep for a race. We go and then I stretch right before I run but I don't really do anything else.
WHAT DO YOU THINK OF THE SEASON? It was fun. I don't really pay that much attention. I'm not one of the top runners but I had a really good time.
WHAT'S BEEN THE HIGHLIGHT TO THE SEASON? The last race was the best because — this sounds really bad, maybe coach won't see it — but I didn't really try. I just kind of just ran. I was just running with my friends.
AFTER YOU'RE THROUGH RUNNING CROSS COUNTRY AT BHS, WHAT DO YOU THINK YOU'LL REMEMBER MOST FONDLY ABOUT IT? Probably Grace (Finley) and Caroline (Bock) and Sabrina and Jahaira (Juarez) because we're all really different. We don't really hang out except for cross country and it's just fun.