Editor's note: This is a regular feature profiling senior athletes at Bryant High School.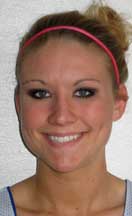 NAME: Abbi Stearns
PARENTS: Julie Stearns and John Stearns
SIBLINGS: One. Her name's Anna. She's in eighth grade at Bethel.
FAVORITE SUBJECT IN SCHOOL: Math
FAVORITE SPARE TIME ACTIVITY: If I have spare time, I like to hang out with my friends pretty much.
FAVORITE FOOD: Chinese.
FAVORITE MUSIC ARTIST OR GROUP: I pretty much like all kinds of music.
FAVORITE MOVIE: House Bunny
FAVORITE TV SHOW: That 70's Show
WHAT WAS YOUR FAVORITE TOY AS A KID?[more] I played with Barbies when I was little.
WHAT ARE YOUR PLANS AFTER HIGH SCHOOL? Probably to play basketball in college. At CBC, I think.
OTHER THAN YOUR PARENTS, WHO'S HAD THE BIGGEST INFLUENCE ON YOUR LIFE? HOW? It's an ex-teammate from last year, Alana Morris. She kind of motivated me like in basketball to fulfill my potential instead of just going through the motions.
WHAT'S YOUR FAVORITE THING ABOUT BASKETBALL? Probably just the competitive part of it. I'm very competitive about everything.
POSITION: Forward
WHAT DO YOU FEEL LIKE YOUR RESPONSIBILITIES ARE ON THE FLOOR? Rebounding for me and making sure posts don't score on the inside.
WHAT DO YOU THINK OF THE SEASON SO FAR? It's been tough. It wasn't exactly what I expected but it's getting better.
WHAT'S BEEN THE HIGHLIGHT TO THE SEASON SO FAR? Probably the Bentonville tournament.
WHAT'S IT GOING TO TAKE FOR THE TEAM TO BE SUCCESSFUL THE REST OF THE SEASON? For all of us to play together. We're still not all clicking as a team. We all need to play a good game at the same time. There will be a game where a few of us will have a good game and then some won't. Then the next game . . . we all just need to have a good game together.
TALK ABOUT YOUR GAME NOW; WHAT ARE YOU MOST CONFIDENT IN YOUR ABILITY TO DO? Probably rebounding and shot blocking.
WHAT DO YOU WORK HARDEST TO IMPROVE ON IN PRACTICE? Taking shots when I'm open.
WHEN YOU'RE THROUGH PLAYING BASKETBALL AT BRYANT HIGH SCHOOL, WHAT DO YOU THINK YOU'LL LOOK BACK AND REMEMBER MOST FONDLY ABOUT THE EXPERIENCE? Just all the friendships that I've made throughout the years playing basketball, all the people I've met and places I've been.