Editor's note: This is a regular feature profiling senior athletes at Bryant High School.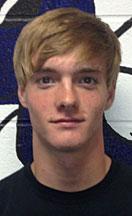 NAME: Austin Powell
PARENT: Randy and Sandra Powell
SIBLINGS: I have three brothers. Ethan's 21, Jacob's 19 and Lucas is 16.
FAVORITE SUBJECT IN SCHOOL: History
WHAT DO YOU LIKE TO DO IN YOUR SPARE TIME? Hunt
FAVORITE FOOD: Steak and shrimp
FAVORITE MUSIC ARTIST OR GROUP: Jason Aldean
FAVORITE MOVIE: Friday Night Lights[more]
FAVORITE TV SHOW: Two and a Half Men
WHAT WAS YOUR FAVORITE TOY AS A KID? Pop guns, any kind of toy gun.
WHAT ARE YOUR PLANS AFTER HIGH SCHOOL? I want to go to college and become a teacher and, hopefully, become a principal. I think I'll end up at ASU.
OTHER THAN YOUR PARENTS, WHO HAS HAD THE BIGGEST INFLUENCE ON YOUR LIFE? All my brothers; we're pretty close, all of us have played football so I've kind of looked to them for guidance on that.
WHAT'S YOUR FAVORITE THING ABOUT FOOTBALL: Just being a part of something greater than yourself and being around your friends, working hard to get better for Friday night.
POSITION: Wide receiver
WHAT DO YOU FEEL LIKE IS YOUR PRIMARY RESPONSIBILITY ON THE FIELD? Blocking is really crucial because there's no way that you can get the ball every play and we have so many guys that are playmakers so you're going to have to block to get them down the field and keep the team going through the season.
WHAT DO YOU THINK OF THE SEASON SO FAR? It's gone pretty good. We let one slip away but I think we're going to be okay. We've just got to stay focused and remember what happens when we don't stay focused.
WHEN THE TEAM'S PLAYING WELL, WHAT'S THE KEY TO THAT? If everybody's focused and on the same page and we've had a good week of practice, everybody knows what's going on, we can go far.
WHAT'S BEEN THE HIGHLIGHT TO THE SEASON SO FAR? Second half of the Salt Bowl. We started out slow but we got a pep talk at halftime that got everybody fired up and we ran away with it.
WHAT'S IT GOING TO TAKE FOR THE TEAM TO BE SUCCESSFUL THE REST OF THE SEASON? As the season goes on, it's the same old routine but you've got to stay focused and work every day to get better and better.

INDIVIDUALLY, WHAT ABOUT YOUR GAME ARE YOU MOST CONFIDENT ABOUT? I'm confident in my blocking.
WHAT DO YOU WORK HARDEST TO IMPROVE? Just watching the ball the way in and making sure I'm precise on my routes and on my cuts so I can get open more.
AFTER YOU'RE THROUGH PLAYING FOOTBALL AT BHS, WHAT DO YOU THINK YOU'LL REMEMBER MOST FONDLY ABOUT IT? Being around all these guys; I've known some of them since middle school and coming together in ninth grade and making good runs, being able to compete against everybody we played against.