Editor's note: This is a regular feature profiling senior athletes at Bryant High School.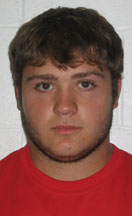 NAME: Blain Jackson

PARENT: Danny and Cindy Jackson

SIBLINGS: I have one brother, Zach Jackson. He is 14 and he plays football on the junior high team.

FAVORITE SUBJECT IN SCHOOL: Math

WHAT DO YOU LIKE TO DO IN YOUR SPARE TIME? Fish, hunt and ride 4-wheelers, and just hang out with my friends.

FAVORITE FOOD: Anything with a buffet.

FAVORITE MUSIC ARTIST OR GROUP: Luke Bryan[more]

FAVORITE MOVIE: Remember the Titans

FAVORITE TV SHOW: The Friday Night Lights series that was on.
WHAT WAS YOUR FAVORITE TOY AS A KID? Hot Wheels
WHAT ARE YOUR PLANS AFTER HIGH SCHOOL? Hopefully go to college and get a degree. I'm still hoping to play football. Hopefully, I can go to ASU and play football. I'd like to study Agriculture.
OTHER THAN YOUR PARENTS, WHO HAS HAD THE BIGGEST INFLUENCE ON YOUR LIFE? All the male figures in my life pretty much. My uncle and cousins, they all were football players and they just work hard at everything they do.
POSITION: Center
WHAT DO YOU FEEL LIKE IS YOUR PRIMARY RESPONSIBILITY ON THE FIELD? Protect the quarterback, protect the running backs and don't let anybody get hit in the backfield.
WHAT DO YOU THINK OF THE SEASON SO FAR? The season's going pretty good so far. We've had a few ups and downs but we'll overcome it and finish strong.
WHEN THE TEAM'S PLAYING WELL, WHAT'S THE KEY TO THAT? Everybody's on the same page, we'd worked hard that week, and everybody's trusting each other out on the field.
WHAT'S BEEN THE HIGHLIGHT TO THE SEASON SO FAR? Coming back in the Salt Bowl when we were down 14-0 and shutting them out.
WHAT'S IT GOING TO TAKE FOR THE TEAM TO BE SUCCESSFUL THE REST OF THE SEASON? Everybody just working hard, being on the same page, special teams, offense and defense, coming together.

INDIVIDUALLY, WHAT ABOUT YOUR GAME ARE YOU MOST CONFIDENT ABOUT? Blocking.
WHAT DO YOU WORK HARDEST TO IMPROVE? Run blocking, getting stronger and getting a little bigger and faster.
AFTER YOU'RE THROUGH PLAYING FOOTBALL AT BHS, WHAT DO YOU THINK YOU'LL REMEMBER MOST FONDLY ABOUT IT? My coaches, all the friendships I've made and how close we all came together so quick.