Editor's note: This is a regular feature profiling senior athletes at Bryant High School.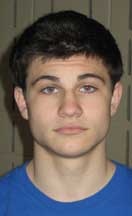 NAME: Brandon Powell
PARENTS: Kellye Smith and Ron Powell
SIBLINGS: None
FAVORITE SUBJECT IN SCHOOL: English
FAVORITE SPARE TIME ACTIVITY: Wrestling
FAVORITE FOOD: That's tough. I like everything. I guess any kind of pasta.
FAVORITE MUSIC ARTIST OR GROUP: I really don't have one. I listen to a lot of stuff.[more]
FAVORITE MOVIE: I have so many I can't name just one.
FAVORITE TV SHOW: I like Modern Family a lot.
WHAT WAS YOUR FAVORITE TOY AS A KID? Action figures
WHAT ARE YOUR PLANS AFTER HIGH SCHOOL? I'm going to go college and it's either going to be Fayetteville or Mizzou. Right now I plan to become an orthopedic surgeon.
OTHER THAN YOUR PARENTS, WHO'S HAD THE BIGGEST INFLUENCE ON YOUR LIFE? HOW? Just coaches in general. Besides my parents, I've probably spent the most time with them. I've done other sports too and they've always helped me and shaped me to become a better person.
WHAT'S YOUR FAVORITE THING ABOUT WRESTLING? It might sound bad but just the way it feels when you win. It's just so nice.
WHAT'S YOUR WEIGHT CLASS? 120
WHAT'S YOUR APPROACH TO A MATCH? It's different for every person I wrestle. Especially if I've wrestled them before, I kind of get a game plan. But I always try to be aggressive and I always try to have the match in my control instead of letting them take it to me and just reacting.
WHAT'S BEEN THE HIGHLIGHT TO THE SEASON SO FAR? I don't know. This season, I haven't really had any highlights, not that I would consider highlights. I've only won one tournament and that was ours so I guess you could say that.
WHAT'S IT GOING TO TAKE FOR THE TEAM TO BE SUCCESSFUL AT CONFERENCE AND STATE? We could be really successful. We just need all our guys to really step up. We got fourth at the CAC tournament and that was like 26 teams. We could do really well at the State. I think we could place top three. We just need all our guys to step up and do their best.
WHAT ARE YOU MOST CONFIDENT IN YOUR ABILITY TO DO? I think, in general, if it's a really close match I'm pretty good at pulling it off at the end.
WHAT DO YOU WORK HARDEST TO IMPROVE ON IN PRACTICE? My conditioning and then down actually on the mat. I'm really good on my feet and I'm really good at taking people down and not being taken down but down on the mat is where I have more trouble.
WHEN YOU'RE THROUGH WRESTLING AT BRYANT HIGH SCHOOL, WHAT DO YOU THINK YOU'LL LOOK BACK AND REMEMBER MOST FONDLY ABOUT THE EXPERIENCE? Just all the fun I had with the team. I really get along well with everyone and we always have a lot of fun, no matter if it's at practice or at a meet, during any kind of workout, we always have fun together. That'll be something good to look back on.