Editor's note: This is a regular feature profiling senior athletes at Bryant High School.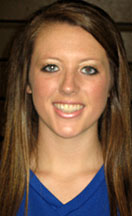 NAME: Britten Hays
PARENTS: Mark and Carolyn Hays
SIBLINGS: A sister, Brianna Hays, 20, and a brother, Tristan Hays, 11.
FAVORITE SUBJECT IN SCHOOL: Drama
WHAT DO YOU LIKE TO DO IN YOUR SPARE TIME? Go to church, hang out with friends, ride horses.
FAVORITE FOOD: Chicken
FAVORITE MUSIC ARTIST OR GROUP: Country music in general
FAVORITE MOVIE: Forrest Gump[more]
FAVORITE TV SHOW: Glee
WHAT WAS YOUR FAVORITE TOY AS A KID? Baby dolls
WHAT ARE YOUR PLANS AFTER HIGH SCHOOL? Attend UCA or Henderson to major in education.
FAVORITE THING ABOUT VOLLEYBALL: Getting a dig when it is hit really hard at me.
POSITION: back row, right side.
WHAT DO YOU FEEL LIKE IS YOUR PRIMARY RESPONSIBILITY ON THE COURT? First pass.
WHAT DO YOU THINK OF THE SEASON SO FAR? We are doing fantastic.
WHEN THE TEAM'S PLAYING WELL, WHAT'S IT DOING? Playing together
WHAT'S BEEN THE HIGHLIGHT TO THE SEASON SO FAR? One of our outsides hit a ball so hard it knocked a girl out.
WHAT'S IT GOING TO TAKE FOR THE TEAM TO BE SUCCESSFUL THE REST OF THE SEASON? Playing together.
INDIVIDUALLY, WHAT ABOUT YOUR GAME ARE YOU MOST CONFIDENT ABOUT? Serving.
WHAT DO YOU WORK HARDEST TO IMPROVE? Passing.
AFTER YOU'RE THROUGH PLAYING VOLLEYBALL AT BHS, WHAT DO YOU THINK YOU'LL REMEMBER MOST FONDLY ABOUT IT? Well, I was out with a knee injury for about a month, so I haven't gotten to play a lot yet but I will always remember my team. They are the best team anyone could have.