Editor's note: This is a regular feature profiling senior athletes at Bryant High School.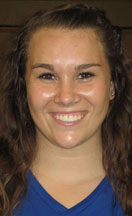 NAME: Brooke Howell
PARENTS: Mike and Kaye Howell
SIBLINGS: Logan Howell, 18, and Steven Howell, 27.
FAVORITE SUBJECT IN SCHOOL: English
WHAT DO YOU LIKE TO DO IN YOUR SPARE TIME? Go hunting.
FAVORITE FOOD: Chicken enchiladas
FAVORITE MUSIC ARTIST OR GROUP: Keith Urban
FAVORITE MOVIE: Stepbrothers[more]
FAVORITE TV SHOW: Pretty Little Liars
WHAT WAS YOUR FAVORITE TOY AS A KID? My baby doll
WHAT ARE YOUR PLANS AFTER HIGH SCHOOL? College for volleyball and I'm not sure what I want to do.
FAVORITE THING ABOUT VOLLEYBALL: Hitting.
POSITION: Outside hitter.
WHAT DO YOU FEEL LIKE IS YOUR PRIMARY RESPONSIBILITY ON THE COURT? Hitting.
WHAT DO YOU THINK OF THE SEASON SO FAR? We have become so close and play together as one.
WHEN THE TEAM'S PLAYING WELL, WHAT'S IT DOING? Positive attitudes
WHAT'S BEEN THE HIGHLIGHT TO THE SEASON SO FAR? Knocking a girl out was pretty intense.
WHAT'S IT GOING TO TAKE FOR THE TEAM TO BE SUCCESSFUL THE REST OF THE SEASON? Positive attitudes, playing for each other and the want.
INDIVIDUALLY, WHAT ABOUT YOUR GAME ARE YOU MOST CONFIDENT ABOUT? My hitting.
WHAT DO YOU WORK HARDEST TO IMPROVE? My serves.
AFTER YOU'RE THROUGH PLAYING VOLLEYBALL AT BHS, WHAT DO YOU THINK YOU'LL REMEMBER MOST FONDLY ABOUT IT? I'll miss how close we are and how we never give up on each other.