Editor's note: This is a regular feature profiling senior athletes at Bryant High School.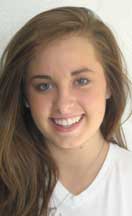 NAME: Brooke Parish
DATE OF BIRTH: Dec. 20, 1991
PARENTS: Monica and Gary Parish
SIBLINGS: Brandon Parish. We're both 18.
FAVORITE SUBJECT IN SCHOOL: Science
FAVORITE SPARE TIME ACTIVITY: Hang out with friends
FAVORITE FOOD: Seafood
FAVORITE MUSIC ARTIST OR GROUP: Lady Antebellum[more]
FAVORITE MOVIE: Never Back Down
FAVORITE TV SHOW: CSI
WHAT WAS YOUR FAVORITE TOY AS A KID? Any kind of sports equipment, any basketball or soccer ball or any kind of ball.
WHAT ARE YOUR PLANS AFTER HIGH SCHOOL? To go to ASU and get my nursing degree.
OTHER THAN YOUR PARENTS, WHO'S HAD THE BIGGEST INFLUENCE ON YOUR LIFE? HOW? God and my friends and my teammates. Over the years, it gets kind of tiring, wearing down because I've been in sports since I was in kindergarten. We're all in it for each other. We just keep building each other up and they've helped me out a lot.
WHAT'S YOUR FAVORITE THING ABOUT BASKETBALL? My friends.
POSITION: Forward
WHAT DO YOU FEEL LIKE YOUR RESPONSIBILITIES ARE ON THE FLOOR? Encouragement and to find the open girl and to just kind of keep us all together. I'm kind of like the sealant to the bond that we have. I try to make sure we've got our heads focused. Then just try to hit the open girl, whoever's hitting that night. With us, it's a couple of girls every night.
WHAT DO YOU THINK OF THE SEASON SO FAR? Outstanding. We've had some games that were kind of so-so. We had some disappointment in Conway but, overall, we're right where we want to be.
WHEN THE TEAM'S PLAYING WELL, WHAT'S IT DOING? We're just playing our game. We've been playing together since ninth grade, except Shanika (Johnson). We're just playing basketball, just having fun out there. That's when we play our best because when we get stressed — we're high school girls and when we just have fun with it, we play the best.
WHAT'S BEEN THE HIGHLIGHT TO THE SEASON SO FAR? Winning against Conway. That pretty much sealed the second seed if we take care of business.
WHAT'S IT GOING TO TAKE FOR THE TEAM TO BE SUCCESSFUL THE REST OF THE SEASON? To not back down. We only have just a little more to go. If we can just push through it. Coach is doing some special things so we don't get tired and our mindset stays right and we stay focused to finish this year out.
TALK ABOUT YOUR GAME NOW; WHAT ARE YOU MOST CONFIDENT IN YOUR ABILITY TO DO? Talking out on the court, being able to see things. I'm usually back on defense and I usually talk with the girls and tell them what's up.
WHAT DO YOU WORK HARDEST TO IMPROVE ON IN PRACTICE? My confidence. I've been doing this sport since kindergarten so I know I have the skills. It's just the confidence to do that, like on offense, I could be a bigger key and my teammates are trying to get me to be a bigger key. It's just whether or not I have the confidence to do it.
WHEN YOU'RE THROUGH PLAYING BASKETBALL AT BRYANT HIGH SCHOOL, WHAT DO YOU THINK YOU'LL LOOK BACK AND REMEMBER MOST FONDLY ABOUT THE EXPERIENCE? Just the girls, the underclassmen too. They've really played a big part — this is a drama-free year for us. When we were sophomores, it was awful. This year, it's been really great. We all love each other.