Editor's note: This is a regular feature profiling senior athletes at Bryant High School.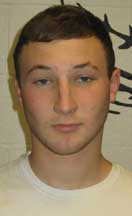 NAME: Chris Arnold
DATE OF BIRTH: March 20, 1992
PARENTS: Julie and Andrew Arnold
SIBLINGS: I have two sisters, Tiffany and Jill.
FAVORITE SUBJECT IN SCHOOL: English
FAVORITE SPARE TIME ACTIVITY: Hang out with my friends
FAVORITE FOOD: Pizza
FAVORITE MUSIC ARTIST OR GROUP: I like all music.[more]
FAVORITE MOVIE: Inglourious Basterds
FAVORITE TV SHOW: The Chappelle Show
FAVORITE TOY AS A KID: My bike
WHAT ARE YOUR PLANS AFTER HIGH SCHOOL? Go to college. I'm not sure where. I want to be a physical therapist.
OTHER THAN YOUR PARENTS, WHO'S HAD THE BIGGEST INFLUENCE ON YOUR LIFE? My sister. She keeps me out of trouble.
FAVORITE THING ABOUT FOOTBALL: Being part of a team.
POSITION: Receiver
WHAT DO YOU FEEL ARE YOUR PRIMARY RESPONSIBILITIES? Be a leader.
WHAT ARE YOUR THOUGHTS ON THE SEASON SO FAR? I think it's going really. We're 4-0. Hopefully we'll keep winning.
WHAT'S BEEN THE HIGHLIGHT OF THE SEASON SO FAR? Chris Rycraw.
WHAT'S IT GOING TO TAKE FOR THE TEAM TO BE SUCCESSFUL THE REST OF THE SEASON? I think if we just keep doing what we're doing, it'll turn out pretty good.
INDIVIDUALLY, WHAT ABOUT YOUR GAME ARE YOU MOST CONFIDENT ABOUT? I think I could do better. I really haven't had a big game yet. I can catch the ball and make plays.
WHAT DO YOU WORK HARDEST TO IMPROVE ON? Discipline.
WHEN YOU'RE THROUGH PLAYING FOOTBALL AT BHS, WHAT DO YOU THINK YOU'LL REMEMBER MOST FONDLY ABOUT IT? Probably playing with my teammates.