Editor's note: This is a regular feature profiling senior athletes at Bryant High School.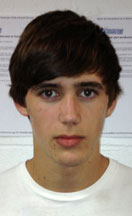 NAME: Chris Gjestvang
PARENTS: Terri and George Gjestvang
SIBLINGS: Tiffani, 24
FAVORITE SUBJECT IN SCHOOL: English
WHAT DO YOU LIKE TO DO IN YOUR SPARE TIME? Be outside
FAVORITE FOOD: Steak
FAVORITE MUSIC ARTIST OR GROUP: Adelitas Way
FAVORITE MOVIE: Predator[more]
FAVORITE TV SHOW: Counting Cars
WHAT WAS YOUR FAVORITE TOY AS A KID? Don't remember
WHAT ARE YOUR PLANS AFTER HIGH SCHOOL? College
OTHER THAN YOUR PARENTS, WHO HAS HAD THE BIGGEST INFLUENCE ON YOUR LIFE? My friend, Taylor. He always hung out with me and we ended up being a lot alike.
FAVORITE THING ABOUT CROSS COUNTRY: The people in it.
WHAT'S YOUR APPROACH TO A RACE (Strategy/Preparation)? Thinking about doing good.
WHAT DO YOU THINK OF THE SEASON? It's gone good.
WHAT'S BEEN THE HIGHLIGHT TO THE SEASON? Don't really know.
AFTER YOU'RE THROUGH RUNNING CROSS COUNTRY AT BHS, WHAT DO YOU THINK YOU'LL REMEMBER MOST FONDLY ABOUT IT? The friends I made in it.