Editor's note: This is a regular feature profiling senior athletes at Bryant High School.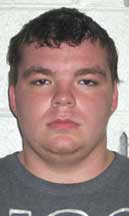 NAME: Chris Hendrix
DATE OF BIRTH: March 18, 1992
PARENTS: Dave Hendrix
SIBLINGS: None.
FAVORITE SUBJECT IN SCHOOL: History
FAVORITE SPARE TIME ACTIVITY: Play video games and hang out with friends
FAVORITE FOOD: Nachos.
FAVORITE MUSIC ARTIST OR GROUP: System Of The Down[more]
FAVORITE MOVIE: I Am Legend
FAVORITE TV SHOW: Two and a Half Men
WHAT WAS YOUR FAVORITE TOY AS A KID? A red fire truck
WHAT ARE YOUR PLANS AFTER HIGH SCHOOL? Army. Hopefully I'll retire from there and become a police officer after that.
OTHER THAN YOUR PARENTS, WHO'S HAD THE BIGGEST INFLUENCE ON YOUR LIFE? HOW? My grand-dad. Just the way he acts around people. He's just positive about everything.
WHAT'S YOUR FAVORITE THING ABOUT WRESTLING? Just hurting people.
WHAT'S YOUR WEIGHT CLASS? Heavyweight, 285.
WHAT'S YOUR APPROACH TO A MATCH? Just get them to the ground as soon as possible and end it as quick as possible. I don't like to draw it out, just get it over with.
WHAT'S BEEN THE HIGHLIGHT TO THE SEASON SO FAR? Getting second place in a tournament at Central.
WHAT'S IT GOING TO TAKE FOR THE TEAM TO BE SUCCESSFUL THE REST OF THE SEASON? Just need to be more aggressive.
WHAT ARE YOU MOST CONFIDENT IN YOUR ABILITY TO DO? Take them down, slam them.
WHAT DO YOU WORK HARDEST TO IMPROVE ON IN PRACTICE? Barbed wire and double chicken wing.
WHEN YOU'RE THROUGH WRESTLING AT BRYANT HIGH SCHOOL, WHAT DO YOU THINK YOU'LL LOOK BACK AND REMEMBER MOST FONDLY ABOUT THE EXPERIENCE? How close everyone on the team is.