Editor's note: This is a regular feature profiling senior athletes at Bryant High School.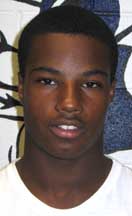 NAME: Chris Rycraw
DATE OF BIRTH: April 7, 1991
PARENTS: Shawn and Cristal Rycraw
SIBLINGS: I live with two brothers. Shawn and Christopher, 3 and 17.
FAVORITE SUBJECT IN SCHOOL: English.
WHAT DO YOU LIKE TO DO IN YOUR SPARE TIME? Hang out with my friends and play basketball.
FAVORITE FOOD: Larry's Pizza.
FAVORITE MUSIC ARTIST OR GROUP: Rock and rap.[more]
FAVORITE MOVIE: SuperBad.
FAVORITE TV SHOW: Saved By The Bell
WHAT WAS YOUR FAVORITE TOY AS A KID? Probably a football.
WHAT ARE YOUR PLANS AFTER HIGH SCHOOL? I'm going to college. I'd like to study Physical Education and Early Childhood Care with like a Minor in English. I don't know where I want to go yet.
OTHER THAN YOUR PARENTS, WHO HAS HAD THE BIGGEST INFLUENCE ON YOUR LIFE? Probably Coach (Paul) Calley. He keeps me level-headed and focused and out of trouble.
WHAT'S YOUR FAVORITE THING ABOUT FOOTBALL? Just coming out and working hard every day and winning football games.
POSITION: Running back.
WHAT DO YOU FEEL LIKE IS YOUR PRIMARY RESPONSIBILITY ON THE FIELD? Holding onto the ball is the main one.
WHAT DO YOU THINK OF THE SEASON SO FAR? Well, an 8-2 record is pretty good and if we win another game I think we'll be the winningest class in Bryant history. Everybody's been clicking and we've had more weapons this year. Jimi (Easterling) has been playing great, Logan's been playing great. We have more weapons. And the defense has always played good.
WHAT'S BEEN THE HIGHLIGHT TO THE SEASON SO FAR? Beating No. 1 Cabot.
WHAT'S IT GOING TO TAKE FOR THE TEAM TO BE SUCCESSFUL IN THE PLAYOFFS? Stay focused and we can't make mistakes.
INDIVIDUALLY, WHAT ABOUT YOUR GAME ARE YOU MOST CONFIDENT ABOUT? Probably just running hard.
WHAT DO YOU WORK HARDEST TO IMPROVE? To play attention a little more. I really kind of goof off in practice sometimes.
AFTER YOU'RE THROUGH PLAYING FOOTBALL AT BHS, WHAT DO YOU THINK YOU'LL REMEMBER MOST FONDLY ABOUT IT? Probably all the good times and stuff with all the players.