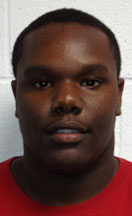 Editor's note: This is a regular feature profiling senior athletes at Bryant High School.

NAME: Cortez Williams
PARENTS: Thomas and Bernadette Williams
SIBLINGS: I have two brothers and one sister. Dominque is 19, T.J. is 23 and Shaqwnna 25.
FAVORITE SUBJECT IN SCHOOL: Math
WHAT DO YOU LIKE TO DO IN YOUR SPARE TIME? Play video games
FAVORITE FOOD: Pizza[more]
FAVORITE MUSIC ARTIST OR GROUP: MMT
FAVORITE MOVIE: Boys In The Hood
FAVORITE TV SHOW: Family Guy
WHAT WAS YOUR FAVORITE TOY AS A KID? Lego blocks
WHAT ARE YOUR PLANS AFTER HIGH SCHOOL? Graphic design; Arkansas Tech
OTHER THAN YOUR PARENTS, WHO HAS HAD THE BIGGEST INFLUENCE ON YOUR LIFE? My two older brothers, just telling me to work hard, keep focused and don't let anything distract you.
WHAT'S YOUR FAVORITE THING ABOUT FOOTBALL: I get to hit people.
POSITION: Defensive lineman
WHAT DO YOU FEEL LIKE IS YOUR PRIMARY RESPONSIBILITY ON THE FIELD? Just make sure no one in the opposite jersey gets through my hole without being hit.
WHAT DO YOU THINK OF THE SEASON SO FAR? I think we're doing pretty good. We still have time to get better and I think we're going to shock some people.
WHEN THE TEAM'S PLAYING WELL, WHAT'S THE KEY TO THAT? Working as a unit, everybody focused in and playing as a team.
WHAT'S BEEN THE HIGHLIGHT TO THE SEASON SO FAR? I'd say most people didn't think we were going to be as good as we are and I think we've shown some people up.
WHAT'S IT GOING TO TAKE FOR THE TEAM TO BE SUCCESSFUL IN THE PLAYOFFS? Keep playing as a unit, don't lose focus, know who we're going against and just get the job done.
INDIVIDUALLY, WHAT ABOUT YOUR GAME ARE YOU MOST CONFIDENT ABOUT? Not worrying about individual stats, just working, helping my team get the job done.
WHAT DO YOU WORK HARDEST TO IMPROVE?
Stamina, staying ready for the long quarters, the fourth quarter and the end of the game.
AFTER YOU'RE THROUGH PLAYING FOOTBALL AT BHS, WHAT DO YOU THINK YOU'LL REMEMBER MOST FONDLY ABOUT IT? The practices, just being out there with my friends and having fun.