Editor's note: This is a regular feature profiling senior athletes at Bryant High School.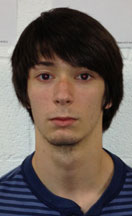 NAME: Damian Kropp
PARENTS: Carleen Gautz
SIBLINGS: Chloe Basa, 13; Karl Basa, 10.
FAVORITE SUBJECT IN SCHOOL: French
WHAT DO YOU LIKE TO DO IN YOUR SPARE TIME? Hang out with my friends
FAVORITE FOOD: PB&J
FAVORITE MUSIC ARTIST OR GROUP: Heavy metal
FAVORITE MOVIE: My Soul To Take[more]
FAVORITE TV SHOW: NCIS
WHAT WAS YOUR FAVORITE TOY AS A KID? Matchbox cars

WHAT ARE YOUR PLANS AFTER HIGH SCHOOL? Join the Navy and become a physical therapist

OTHER THAN YOUR PARENTS, WHO HAS HAD THE BIGGEST INFLUENCE ON YOUR LIFE? My team members; they always do all they can and we work together to do our best.
FAVORITE THING ABOUT CROSS COUNTRY: All of us working and doing all we can to proves others wrong.
WHAT'S YOUR APPROACH TO A RACE (Strategy/Preparation)? Every night before a race, I eat a lot of pasta and drink as much water as I can. I go into a race thinking "It's a new day and a new race, let's leave it on the line."
WHAT DO YOU THINK OF THE SEASON? We've got a young but strong team. I love my teammates like they're my brothers and I always love every season.
WHAT'S BEEN THE HIGHLIGHT TO THE SEASON? We came in second in our first two meets so I think that's pretty good compared to years past and I hope we keep it going.
AFTER YOU'RE THROUGH RUNNING CROSS COUNTRY AT BHS, WHAT DO YOU THINK YOU'LL REMEMBER MOST FONDLY ABOUT IT? All my teammates, both past and present, and all of Coach (Steve) Oury's pep talks, and all the friends I've made.