Editor's note: This is a regular feature profiling senior athletes at Bryant High School.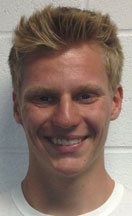 NAME: Daniel Richards
PARENTS: Rich and Sherri Richards
SIBLINGS: I've got one sister, Kayleigh. She's 21.
FAVORITE SUBJECT IN SCHOOL: History
WHAT DO YOU LIKE TO DO IN YOUR SPARE TIME? Fish
FAVORITE FOOD: Southern comfort food
FAVORITE MUSIC ARTIST OR GROUP: Country
FAVORITE MOVIE: Remember The Titans[more]
FAVORITE TV SHOW: Duck Dynasty
WHAT WAS YOUR FAVORITE TOY AS A KID? A baseball and glove.
WHAT ARE YOUR PLANS AFTER HIGH SCHOOL? I plan on going to ASU or UCA and majoring in business.
OTHER THAN YOUR PARENTS, WHO HAS HAD THE BIGGEST INFLUENCE ON YOUR LIFE? I think it would be my Uncle Rich. He's just always been a good role model and has always been a real good coach when it comes to sports and has always helped me.
WHAT'S YOUR FAVORITE THING ABOUT FOOTBALL: Just lining up and hitting somebody in the mouth.
POSITION: Linebacker
WHAT DO YOU FEEL LIKE IS YOUR PRIMARY RESPONSIBILITY ON THE FIELD? Probably reading keys and making sure you're where you're supposed to be and when you're supposed to be there; just doing your responsibility.
WHAT DO YOU THINK OF THE SEASON SO FAR? I think we've had our ups and downs. Overall, I think we've done good. We just need to finish strong.
WHEN THE TEAM'S PLAYING WELL, WHAT'S THE KEY TO THAT? We've got to have good intensity and momentum.
WHAT'S BEEN THE HIGHLIGHT TO THE SEASON SO FAR? Probably beating Benton.
WHAT'S IT GOING TO TAKE FOR THE TEAM TO BE SUCCESSFUL THE REST OF THE SEASON? I think it's going to be staying focused, everybody doing their jobs and not getting too lazy because we're getting toward the end of the season.
INDIVIDUALLY, WHAT ABOUT YOUR GAME ARE YOU MOST CONFIDENT ABOUT? Probably, just know what coverages and knowing where to be in that coverage.
WHAT DO YOU WORK HARDEST TO IMPROVE?
Breaking down and making the tackle, a smooth clean tackle.
AFTER YOU'RE THROUGH PLAYING FOOTBALL AT BHS, WHAT DO YOU THINK YOU'LL REMEMBER MOST FONDLY ABOUT IT? Just the good team chemistry and all the team members that we built a good bond with.