Editor's note: This is a regular feature profiling senior athletes at Bryant High School.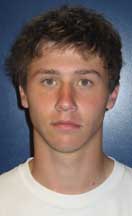 NAME: Devon Norris
DATE OF BIRTH: May 18, 1992
PARENTS: Jim and Mary Jo Norris
SIBLINGS: I have a brother two years older than me in college and a sister eight years older than me teaching in Jacksonville, Carlton and Audra.
FAVORITE SUBJECT IN SCHOOL: English
WHAT DO YOU LIKE TO DO IN YOUR SPARE TIME? Anything active, different kinds of sports or reading, listening to music.[more]
FAVORITE FOOD: Gelato, Italian ice cream
FAVORITE MUSIC ARTIST OR GROUP: There's too many to count. I like all types of music so I have a lot of different favorite artists
FAVORITE MOVIE: Again, I watch so many movies, I've got so many favorites.
FAVORITE TV SHOW: Arrested Development
WHAT WAS YOUR FAVORITE TOY AS A KID? I'm going to have to go with my Star Wars toys.
WHAT ARE YOUR PLANS AFTER HIGH SCHOOL? Go to college at Harding University in Searcy. I'm going to study something having to do with either English or History.
OTHER THAN YOUR PARENTS, WHO HAS HAD THE BIGGEST INFLUENCE ON YOUR LIFE? I'd say probably my Youth Minister Jim. He's a good influence, kind of shows me what it is to be a good Christian.
FAVORITE THING ABOUT SOCCER: Just playing it. As long as I'm out there playing soccer, I'm having fun.POSITION: I play goalkeeper. I also play on the outside mid.
WHAT DO YOU FEEL LIKE IS YOUR PRIMARY RESPONSIBILITY ON THE FIELD? When I'm the goalkeeper, it's to communicate to the rest of my team, let them know what they need to do and, also, to prevent goals from being scored. In the midfield, it's helping to widen out the field and find a way through their defense.
WHAT DO YOU THINK OF THE SEASON SO FAR? I've been here all four years and it's been a really good season this year. We've had a lot of improvements. Thanks should probably go to Coach (Jason) Hay for helping to turn the program around. We've done really well and have a good record so far.
WHAT'S BEEN THE HIGHLIGHT TO THE SEASON SO FAR? Beating Conway, 3-0. We've had a lot of trouble with them in past seasons so this year to beat them twice was really nice.
WHAT'S IT GOING TO TAKE FOR THE TEAM TO BE SUCCESSFUL THE REST OF THE SEASON? Probably just working hard and being as physical and hustling just as much as we do, to play just like we did last night. We'll do good.
INDIVIDUALLY, WHAT ABOUT YOUR GAME ARE YOU MOST CONFIDENT ABOUT? I feel confidant that I'm physical enough to compete with other people that might have better touch skills than I do. I hustle. I go at it non-stop.
WHAT DO YOU WORK HARDEST TO IMPROVE? Probably my touch.
AFTER YOU'RE THROUGH PLAYING SOCCER AT BHS, WHAT DO YOU THINK YOU'LL REMEMBER MOST FONDLY ABOUT IT? This season, how much of an improvement it's been over the last years that I've been here. The program's come full tilt and we have a chance to be a strong soccer program from now on.