Editor's note: This is a regular feature profiling senior athletes at Bryant High School.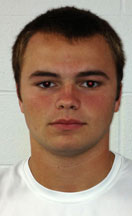 NAME: Hayden Lessenberry
PARENTS: Lee Lessenberry and J'Ann Boyd
SIBLINGS: Ashlyn is 18, Bailey's 17, Lauren is 13 and Ryan's 11
FAVORITE SUBJECT IN SCHOOL: History
WHAT DO YOU LIKE TO DO IN YOUR SPARE TIME? Hang out with my friends
FAVORITE FOOD: Green beans
FAVORITE MOVIE: Friday Night Lights
FAVORITE TV SHOW: That 70's Show[more]
WHAT WAS YOUR FAVORITE TOY AS A KID? A football
WHAT ARE YOUR PLANS AFTER HIGH SCHOOL? Go to college wherever I get a good scholarship to go and play baseball or football and studying pre-Pharmacy.

OTHER THAN YOUR PARENTS, WHO HAS HAD THE BIGGEST INFLUENCE ON YOUR LIFE? Probably my grandma; anytime I ever needed anything, she's always there for me. She always knew the right things to say when I came to her.

WHAT'S YOUR FAVORITE THING ABOUT FOOTBALL: Friday nights; just the intensity of the game and everything. It's awesome.

POSITION: Quarterback

WHAT DO YOU FEEL LIKE IS YOUR PRIMARY RESPONSIBILITY ON THE FIELD? Control the team and lead the team to victory.

WHAT DO YOU THINK OF THE SEASON SO FAR? We're doing all right. We dropped one to Pine Bluff that we should've won and we should be at the top of the conference right now but we're still in the race for a conference championship if El Dorado beats Pine Bluff. So I think if El Dorado beats Pine Bluff, we have a pretty good chance of beating El Dorado.

WHEN THE TEAM'S PLAYING WELL, WHAT'S THE KEY TO THAT? The linemen and me are on the same page with all the blitz pickups and all the receivers are on and the defense is playing good. Just when everything goes right, that's what's happening.

WHAT'S BEEN THE HIGHLIGHT TO THE SEASON SO FAR? Benton, definitely. They got up on us 14-0 then we came back and scored however many unanswered, 48 unanswered points.

WHAT'S IT GOING TO TAKE FOR THE TEAM TO BE SUCCESSFUL THE REST OF THE SEASON? Keep doing what we're doing. Keep improving each and every week.

INDIVIDUALLY, WHAT ABOUT YOUR GAME ARE YOU MOST CONFIDENT ABOUT? Give my receivers a chance to get the ball, just put it where they can catch it and I know they'll bring it down.

WHAT DO YOU WORK HARDEST TO IMPROVE? Probably, identifying blitzes and stuff because that's the hardest thing to do for me. Usually when I have that down good, I usually don't get sacked.
YOU'RE IN A UNIQUE SITUATION AS A THREE-YEAR STARTER AT QUARTERBACK. WHAT WOULD YOU SAY YOU'VE LEARNED SINCE YOU WERE A SOPHOMORE? I've learned so much. Just be humble, play every game as hard as I can, try to give my team a chance to win, and just go out there and know I have a responsibility to know what to do. I know being the quarterback that I have to lead the team everyday. I can't go out there and slack. I have to go out and get everybody else going. Because if I play bad, they play bad.
AFTER YOU'RE THROUGH PLAYING FOOTBALL AT BHS, WHAT DO YOU THINK YOU'LL REMEMBER MOST FONDLY ABOUT IT? How much fun I had playing with the guys that I went to school with and all my friends.