Editor's note: This is a regular feature profiling senior athletes at Bryant High School.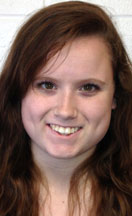 NAME: Hayley Murphy
PARENTS: Linda and James Murphy
SIBLINGS: I have one older brother. His name's Jay. He's 27.
FAVORITE SUBJECT IN SCHOOL: Math
FAVORITE SPARE TIME ACTIVITY: Hang out with my friends and watch movies.
FAVORITE FOOD: Mexican
FAVORITE MUSIC ARTIST OR GROUP: I've always loved Elvis
FAVORITE MOVIE: The Blindside or Remember the Titans[more]
FAVORITE TV SHOW: NCIS
WHAT WAS YOUR FAVORITE TOY AS A KID? I had this little Piglet from Winnie the Pooh. My mom loves Pooh bear so I always carried around this little Piglet doll.
WHAT ARE YOUR PLANS AFTER HIGH SCHOOL? I'm going to college. I haven't picked the college out yet. I want to become a veterinary assistant.
OTHER THAN YOUR PARENTS, WHO'S HAD THE BIGGEST INFLUENCE ON YOUR LIFE? HOW? My grandma; she's really helped me out through a lot of things. She motivates me through a lot.
WHAT'S YOUR FAVORITE THING ABOUT BASKETBALL? Whenever everybody's working together, that momentum that gets going. You just get so excited and just the rush.
POSITION: Post
WHAT DO YOU FEEL LIKE YOUR RESPONSIBILITIES ARE? Working on blocking out and just getting rebounds and making sure the other team doesn't get the ball.

WHAT DO YOU THINK OF THE SEASON SO FAR? It's going pretty well so far.
WHAT'S BEEN THE HIGHLIGHT TO THE SEASON SO FAR? For me, it was when we went to Texas High. I scored 6 points. I was really excited about that.
WHAT'S IT GOING TO TAKE FOR THE TEAM TO BE SUCCESSFUL THE REST OF THE SEASON? I think we need to keep positive attitudes and work to our full potential, believing that we can do it, and just sticking together.
TALK ABOUT YOUR GAME NOW; WHAT ARE YOU MOST CONFIDENT IN YOUR ABILITY TO DO? Blocking out; I've been doing a whole lot better this year at it.
WHAT DO YOU WORK HARDEST TO IMPROVE ON IN PRACTICE? I keep working on blocking out and jumping up and getting rebounds and trying to put it back it for a score.
WHEN YOU'RE THROUGH PLAYING BASKETBALL AT BRYANT HIGH SCHOOL, WHAT DO YOU THINK YOU'LL LOOK BACK AND REMEMBER MOST FONDLY ABOUT THE EXPERIENCE? I'll probably remember the friendships I made and the fun times that I've had.