Editor's note: This is a regular feature profiling senior athletes at Bryant High School.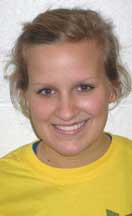 NAME: Heather Light
DATE OF BIRTH: Aug. 17, 1991
PARENTS: Kellie and Chuck Light
SIBLINGS: I have a brother and a sister. Chase is 13 and Brittany is 19.
FAVORITE SUBJECT IN SCHOOL: Science.
WHAT DO YOU LIKE TO DO IN YOUR SPARE TIME? I like to sleep.
FAVORITE FOOD: Anything Italian. That's my favorite.
FAVORITE MUSIC ARTIST OR GROUP: All kinds.[more]
FAVORITE MOVIE: A Walk To Remember.
FAVORITE TV SHOW: One Tree Hill.
WHAT WAS YOUR FAVORITE TOY AS A KID? A softball.
WHAT ARE YOUR PLANS AFTER HIGH SCHOOL? I'm going to go to college. I don't know where I'm going to go yet. I haven't decided. I'm not sure yet what I want to study.
OTHER THAN YOUR PARENTS, WHO HAS HAD THE BIGGEST INFLUENCE ON YOUR LIFE? My sister Brittany because she's been through a lot. She's had a lot of problems like diabetes when she was little.
WHAT'S YOUR FAVORITE THING ABOUT VOLLEYBALL? The girls and just everything.
POSITION: I play back row, a five
WHAT DO YOU FEEL LIKE IS YOUR PRIMARY RESPONSIBILITY ON THE COURT? To get a perfect pass and back up my teammates on the back row.
WHAT DO YOU THINK OF THE SEASON SO FAR? We've done really good. It's just been awesome. I'm proud of our team. We haven't ever won a lot of games but we have this year because we've worked together.
WHAT'S BEEN THE HIGHLIGHT TO THE SEASON SO FAR? I would have to say, beating Mount St. Mary's.
WHAT'S IT GOING TO TAKE FOR THE TEAM TO BE SUCCESSFUL THE REST OF THE SEASON? Play as a team and work together.
INDIVIDUALLY, WHAT ABOUT YOUR GAME ARE YOU MOST CONFIDENT ABOUT? I would have to say my serves.
WHAT DO YOU WORK HARDEST TO IMPROVE? Hitting.
AFTER YOU'RE THROUGH PLAYING VOLLEYBALL AT BHS, WHAT DO YOU THINK YOU'LL REMEMBER MOST FONDLY ABOUT IT? All the girls, especially, and the late talks during camps and stuff like that, just everything.