Editor's note: This is a regular feature profiling senior athletes at Bryant High School.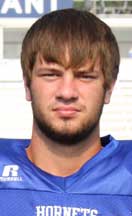 NAME: Hunter Bench
PARENTS: Angel and Robert Bench
SIBLINGS: I have none.
FAVORITE SUBJECT IN SCHOOL: My construction class.
WHAT DO YOU LIKE TO DO IN YOUR SPARE TIME? Hunting.
FAVORITE FOOD: Burgers.
FAVORITE MUSIC ARTIST OR GROUP: Country music
FAVORITE MOVIE: I don't really have one[more]
FAVORITE TV SHOW: None
WHAT WAS YOUR FAVORITE TOY AS A KID? A Tonka toy.
WHAT ARE YOUR PLANS AFTER HIGH SCHOOL? Go to college at Pulaski Tech and just figure out what I want to do from there.
OTHER THAN YOUR PARENTS, WHO HAS HAD THE BIGGEST INFLUENCE ON YOUR LIFE? Probably my cousin. Just learning from his mistakes, I guess.
FAVORITE THING ABOUT FOOTBALL: The excitement and the adrenalin.
POSITION: Defensive line.
WHAT DO YOU FEEL LIKE IS YOUR PRIMARY RESPONSIBILITY ON THE FIELD? Just to attack the ball and keep them from scoring.
WHAT DO YOU THINK OF THE SEASON SO FAR? We've been fighting through it and doing good.
WHEN THE TEAM'S DOING WELL, WHAT'S IT DOING? Just executing.
WHAT'S BEEN THE HIGHLIGHT TO THE SEASON SO FAR? We had a bad game and lost but then this last game helped us to get back in it.
WHAT'S IT GOING TO TAKE FOR THE TEAM TO BE SUCCESSFUL THE REST OF THE SEASON? Just keep our heads in the game and not going into a game thinking that we're going to win.
INDIVIDUALLY, WHAT ABOUT YOUR GAME ARE YOU MOST CONFIDENT ABOUT? Be aggressive.
WHAT DO YOU WORK HARDEST TO IMPROVE? Rushing the passer and closing.
AFTER YOU'RE THROUGH PLAYING FOOTBALL AT BHS, WHAT DO YOU THINK YOU'LL REMEMBER MOST FONDLY ABOUT IT? Winning the Salt Bowl.